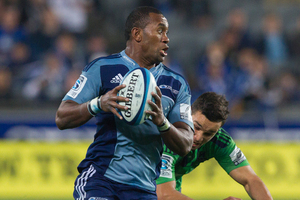 At last count, 41 players have seen action for the Blues this season. Injuries have been a significant reason for that toll but there have been selection vagaries as well.
That indecision began early and seeped through the side.
In the first five games, Michael Hobbs, Gareth Anscombe and Piri Weepu all began matches at first five-eighths.
That selection vacillation said it all. Coach Pat Lam and his staff had the off-season to work out their strategies, to sift their resources for the best combinations and to deliver those decisions at the start of the season.
Instead we got a hotchpotch of picks and declining performances.
That spotty look began last November at the team announcement, a gathering held at a downtown office block without coach Lam because he had gone overseas.
We were not to know then that the team without guidance theme was developing.
Lam began as an assistant coach with Scotland in 2003 and moved to coach Auckland in 2004 before he graduated to the Blues job in 2009.
He has one game left tomorrow, against the Brumbies in Canberra, with his coaching tally standing at 26 wins, 32 defeats and one draw.
Meanwhile, a Blues and NZRU panel is deliberating on who should coach the squad next season. Whomever gets that warrant will be holding their breath about the playing roster.
Isaia Toeava, Lachie Munro, Benson Stanley, Jerome Kaino, Chris Lowrey, Brad Mika and Tevita Mailau are heading away while Rudi Wulf wants a contract release to return to France.
Halfback Alby Mathewson is likely to look overseas, while there remain doubts about Anthony Boric's future after his neck operation and questions about the value of Ali Williams.
A group of others including Sherwin Stowers, Rene Ranger, Hobbs, Anscombe, Peter Saili, Filo Paulo, Pauliasi Manu and Angus Ta'avao have not shown the form to warrant their retention, but resources around the region and the rest of the country will have a say in their future.
Men such as Dan Pryor, James Parsons, Andrew van der Heijden, Cam Goodhue, Sean Polwart, Hadleigh Parkes, Ben Lam, George Moala and Orene Ai'i will need to show some very persuasive rugby later this season to get a further tick at the Blues selection meetings. Young men such as Siale Piutau, Francis Saili and Steven Luatua have shown strong aptitude when they were introduced but, again, their value will go under more rigorous inspection when the national provincial competition begins.
When all the players from this year's Blues squad are assessed and their plans known, there will be a lean list of players demanding they are worthy of repeat selection next season.
Keven Mealamu, Tom McCartney, Tony Woodcock, Charlie Faumuina, Liaki Moli, Luke Braid, Luatua, Daniel Braid, Weepu, Ma'a Nonu, Francis Saili and David Raikuna would make that group, leaving the Blues to unearth a heap of new talent in the ITM Cup, persuade the NZRU they should draft some players to the region or to cherry-pick a couple of top players from overseas.
Whichever way you dice it, there are issues because the Blues have been unable to attract quality players to the region, or do not detect talent well enough within their borders or beyond.
Injury has hit them hard this year. The early loss of star power from Kaino, Toeava and Boric bit deep while the injury struggles for Mealamu and Wulf nobbled their impact.
There were the contract variations which allowed Woodcock to start late, Nonu to wander back from Japan and Weepu to turn up out of shape and continue that way.
Those concessions did the Blues no favours and there seemed to be an underlying laissez faire attitude around the squad, an air of sloppiness which permeated their play.
Perhaps they felt they would naturally push on from their fourth-place finish last season, that another year on would automatically lead to better results.
There were very bullish noises pre-season and victories in all their trial games. There was optimism after a single-point opening defeat against the Crusaders, threats after their next wide loss to the Chiefs but hope after victory overseas in game three against the Bulls. From there everything went south. Some of their play has scarcely been worthy of the ITM Cup.
Blues officials who contract players and the coaching staff have been at the core of the issues, now we will see what an interview and review panel makes of their combined work.