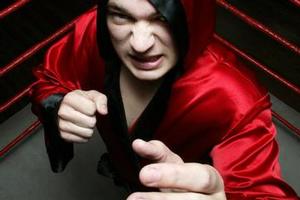 Fire safety educators grappling to get their message across have come up with a novel idea - adopting a wrestler.
H-Flame, current Kiwi Pro Wrestling (KPW) champion, will appear as a fire service-related character in the new Prime TV 13-episode wrestling show Off The Ropes.
The wrestler would enter the ring to the sound of fire engine airhorns, clad in a firefighter's jacket, New Zealand Fire Service magazine Fire & Rescue reported.
"He's a good guy who the crowd loves. He fights bad guys who the crowd hate. Occasionally H-Flame will lose but only because of some cowardly, underhand action of the bad guys."
The innovative repackaging of public service announcements had become necessary due to the cluttered media landscape and the decreasing effectiveness of traditional adverts, the magazine said.
"The New Zealand Fire Service does not have [a huge advertising budget], so we need to be smarter with what we do have."
The fire service was stepping into the wrestling ring with its message in an attempt to influence traditionally hard to reach, at risk groups, including the young, Maori, Polynesians, flatting students and the unemployed.
Between fights, the cameras would go behind the scenes, to show wrestlers demonstrating acceptable and unacceptable fire safety behaviour - smoke alarm installation, unattended cooking, overloaded plugs and putting things too close to heaters.
- NZPA