Warning: Distressing content.
Warning: Distressing material
A teenage girl who took her own life after being bullied and gang-raped by students at her Melbourne school drafted a powerful warning letter to her peers just days before her death.
In the letter, which was first published by 9 News with her mother's permission, Cassidy Trevan, 15, said it was her duty to make her schoolmates aware she had been raped and relentlessly bullied.
Cassidy was the target of severe bullying by a group of girls at her high school and raped by two teenage boys after being led to a house in Springvale in February 2014.
The event caused Cassidy to suffer "nightmares, insomnia, separation anxiety, panic attacks, PTSD and subsequent worsening mental illness," her mother, Linda Trevan, told 9 News.
After two years of suffering, Cassidy committed suicide aged 15.
The unfinished letter, which is being published by Daily Mail Australia, also with her mother's permission, was being written with the help of her boyfriend, Luke.
It was found on Cassidy's laptop.
'WARNING TO ALL STUDENTS'
I was a student at [school name omitted] and I was raped by some of the students who still attend that school. I know this already probably sounds like attention-seeking but it's honestly far from it. I have many reasons for doing this which I'll also explain.
My aim is to warn other people (students mostly but also parents) about what happened because I'm worried if they could do it to me they could do it to other kids like me, or at least try to. You actually have the power to stop this from happening. Remember the people who did this to me were school students at [omitted], it's hard to believe, I know. But it's true.
I'm not doing this for revenge to those students that raped me, set up the rape, bullied me about the rape, teased me about the rape or anything like that. I'm also not doing this for attention seeking like I mentioned earlier, I want to make that clear.
I'm doing this because over 1500 students years 7-12 are currently enrolled at the school and they need to be warned. I feel because of what happened to me, and because the staff at the school did nothing to help me (which I'll talk a bit more about later). It's now my duty to warn you all and to make you aware of what happened. (Not just what you may have heard around school but what actually happened.)
But I'm also doing this for myself. I want to finally after 1 and ½ years be left alone. It's surprising just how many students at [omitted] have heard stories of me and weirdly enough still get told stories of me to this day. I still continue to get students I've never met contacting me Facebook calling me a slut. I've moved schools, I've moved house and still I'm being contacted and bullied. I can't stop people from spreading rumours, but at least I could try and spread what really happened seeing as it's still being talked about anyway. But as I said this honestly is more so for students who are unaware of this and are in danger of those students.
My name is Cassidy Trevan, and I was raped.
If anyone every tries this on you, trust me it's worth fighting! Fight! If you don't you'll regret it for the rest of your life like I do. You can do it.
Be careful. Be warned. Be safe.
- Cassidy Trevan's warning letter to students at her school
Cassidy's mother was last week flooded with support after speaking out about her daughter's suicide.
A mother left heart-broken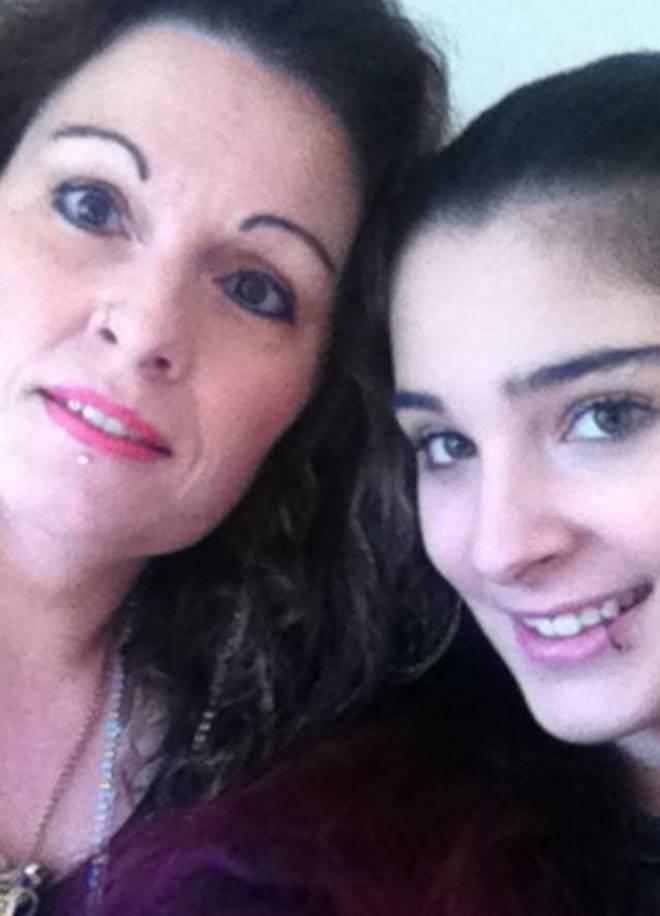 "I wish she could have seen this beautiful caring supportive side of humanity instead of experiencing all the abuse that was inflicted upon her for no reason other than jealousy," Ms Trevan posted online.
Thousands of people around the globe were touched by Cassidy's horrific story, where the group of girls would slap her on the face, leave banana peels at the front door of their family home and regularly abuse her on social media.
The young girl was forced to miss out on her fourth term of Year 7 due to the extent of the bullying.
Cassidy finally returned to school two days a week, where she was met with an apology from the girls, who asked her to be their friend and invited her to a festival.
But instead of going to the festival, the very same girls led her to a nearby house where she was subjected to a horrific gang rape that savaged her innocence.
"They were older boys that Cass didn't know. Two girls who sat and waited. Two boys who shared her and timed each other. One boy stood guarding the front door," Ms Trevan told 9 News.
"Cass was scared to make a formal statement for fear of retaliation from the gang, and she also was worried reliving it would 'push her over the edge'."
In a heart-breaking open post on Facebook, Ms Trevan said she spent the next two years "desperately doing everything" she could to keep Cassidy alive.
"I had to watch my baby suffer for the next 22 months from these demons," she wrote online.
"She worried you would find her and get her again, she went through continued bullying from some of you who managed to get to her by phone or social media, via others, even after what you'd done to her."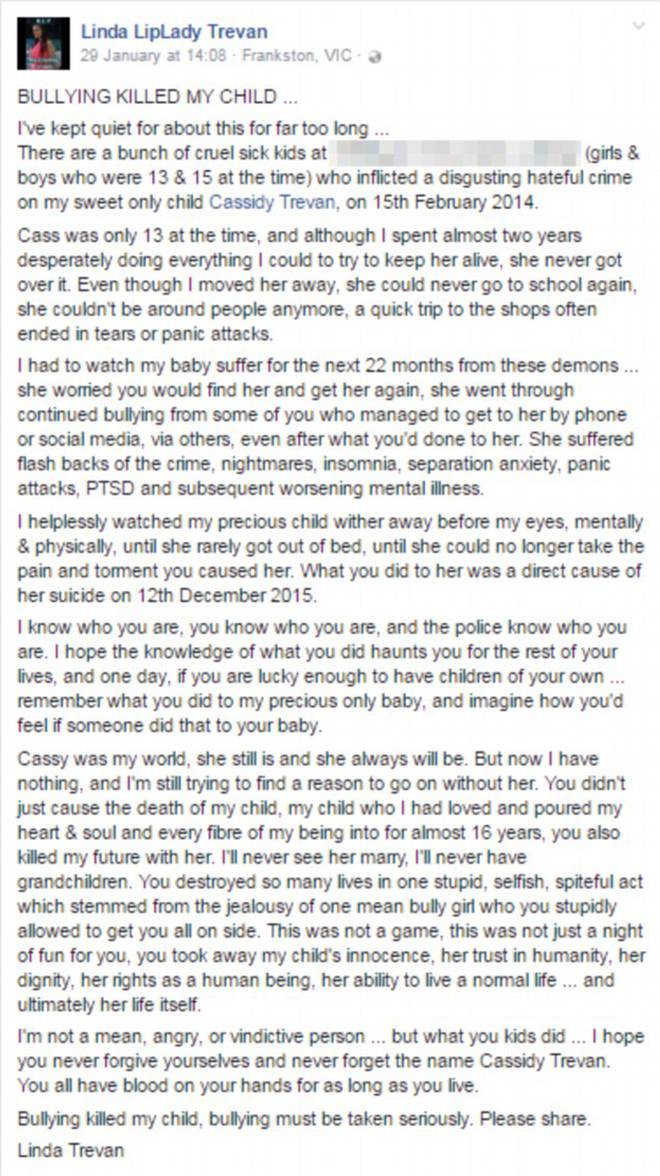 The suffering teenager moved schools to escape the bullying, but was subjected to further verbal abuse by the main bully online.
"I had to get an intervention order on the main bully girl when she physically assaulted Cass at the shops, after the rape, and she was even calling my mobile demanding to talk to Cass," Ms Trevan told 9 News.
Cassidy and her mother met with Detectives from Victoria Police's Sexual Offence and Child Abuse Investigation Team (SOCIT) more than 20 times during a two-year period.
But because Cassidy never made a formal statement to Dandenong police, afraid of the social repercussions, authorities were never able to lay any charges.
Tragically, after years of torment, Cassidy committed suicide on December 12, 2015.
A spokesman for the Victorian Department of Education told Daily Mail Australia that "the death of any young person is an absolute tragedy and our sympathies are with Cassidy's family".
"Schools have a range of ways to help students who may be experiencing bullying or mental health issues, including by providing qualified counsellors. School staff work hard to identify and support students who need support and we would encourage any students who need help to talk to staff at their school."
Where to get help:
• Lifeline: 0800 543 354 (available 24/7)
• Suicide Crisis Helpline: 0508 828 865 (0508 TAUTOKO) (available 24/7)
• Youthline: 0800 376 633
• Kidsline: 0800 543 754 (available 24/7)
• Whatsup: 0800 942 8787 (1pm to 11pm)
• Depression helpline: 0800 111 757 (available 24/7)
• Rainbow Youth: (09) 376 4155
• Samaritans 0800 726 666
• If it is an emergency and you feel like you or someone else is at risk, call 111.