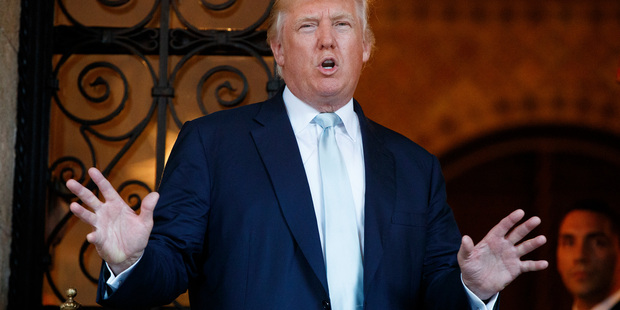 House Republicans scrapped plans to weaken an independent ethics watchdog on the first day of the 115th Congress after a backlash from President-elect Donald Trump and others, as a new period of Republican-led governance started on a tumultuous note.
In a complete reversal, the House GOP moved to withdraw proposed changes they approved last night to official rules that would rein in the Office of Congressional Ethics (OCE). Instead, the House will study changes to the office with an August deadline.
The about-face came hours after Trump took to Twitter to slam House Republicans for the timing of voting behind closed doors in favour of immediately weakening the independent ethics office. The vote defied House GOP leaders and complicated Trump's "drain the swamp" campaign mantra.
"With all that Congress has to work on, do they really have to make the weakening of the Independent Ethics Watchdog, as unfair as it .
. . may be, their number one act and priority. Focus on tax reform, health care and so many other things of far greater importance!" Trump wrote on Twitter today, hours before the new Congress convened.
He added the hashtag "DTS" - shorthand for "drain the swamp".
Congressman Charlie Dent a recent chairman of the House Ethics Committee, said that members of House GOP leadership mentioned Trump's opposition to the OCE changes at the brief, closed-door meeting in the Capitol basement, giving weight to reversing the decision.
"That should be a consideration," Dent said, explaining how leaders framed the thinking.
Democrats and other watchdog groups were also critical of the vote. A coalition of more than a dozen organisations and activists expressed their frustration in a letter to House Democratic and Republican leadership.
"Republicans should remember the strength of public outrage they faced in the space of 12 hours as they scheme to do lasting damage to the health and economic security of millions and millions of hard-working families," said Minority Leader Nancy Pelosi.
The House will vote on a rules package today that will not include the proposed changes to OCE. The changes would have renamed the OCE as the Office of Congressional Complaint Review and ensured that the office would not have been allowed to employ a spokesperson, investigate anonymous tips or refer criminal wrongdoing to prosecutors without the express consent of the Ethics Committee.
The OCE was created in 2008 to address concerns that the Ethics Committee had been too timid in pursuing allegations of wrongdoing by House members.
GOP leaders are eager to wield their House and Senate majorities to rapidly advance an ambitious conservative agenda beginning today, as Trump prepares to take office in under three weeks. But the fresh signs of discord threatened to slow their march.
Folks, Trump's transition must clarify whether he *actually opposes the GOP move,* or merely *what order* Rs are doing things in: pic.twitter.com/9HEs6OZjXw

— Greg Sargent (@ThePlumLineGS) January 3, 2017
Adding to the confusion, Trump senior adviser Kellyanne Conway appeared to partially defend House Republicans' move to make key changes to the ethics office.
"I don't want your viewers to be left with the impression that there's no mechanism to investigate ethics complaints," Conway said on MSNBC. "Particularly ethics complaints that come from constituents, which the former office has been entertaining."
Conway, who will be a counsellor to the president in Trump's White House, said she had not discussed the matter with the president-elect.
Both House Speaker Paul Ryan and House Majority Leader Kevin McCarthy opposed changing the OCE when rank-and-file Republicans decided to defy them with a vote. By today, both leaders seemed resigned to accepting it.
"The office is still expected to take in complaints of wrongdoing from the public. It will still investigate them thoroughly and independently," Ryan said in a statement.
Trump spox Sean Spicer clarifies Trump is annoyed by the timing of GOP gutting ethics watchdog, not the gutting itself. Via pool: pic.twitter.com/DjAsoW7jEv

— Jennifer Bendery (@jbendery) January 3, 2017
"We're a collective group of individuals. Sometimes you win, sometimes you lose," McCarthy told reporters.
But later, things had changed.
According to several people in the private meeting, McCarthy convened the gathering and laid out options for proceeding: Either Republicans could decide among themselves to change course on the ethics changes, or the matter would be hashed out on the House floor, where members would have their views publicly recorded.
With that, he asked if there was any objection. While some members maintained the House should act immediately to rein in the OCE, the vast majority agreed to eliminate the proposal and move on.
"Essentially it was, we can handle it here, or we can handle it on the floor," said one person present.
1) Ambiguous statement with endless wiggle room
2) Everyone reads what they want, assumes the other side is foolishly misreading it https://t.co/3uQzEcBQBX

— Benjy Sarlin (@BenjySarlin) January 3, 2017
Later, Susan Brooks, the incoming House Ethics Committee chairman, told lawmakers that her panel would review bipartisan changes to the OCE's mission in the coming months, culminating in a proposal to be delivered before the House's August recess.
Judiciary Committee Chairman Bob Goodlatte, pushed for the weakening of OCE yesterday. His office said it would have provided "protections against any disclosures to the public or other government entities".
Republicans are under intense pressure to unify behind common goals in the era of Trump, after being plagued for years by infighting in Congress and on the campaign trail. They have identified a list of legislative priorities beginning with the repeal of the Affordable Care Act that they hope will energise most of the GOP. But they could face significant speed bumps.