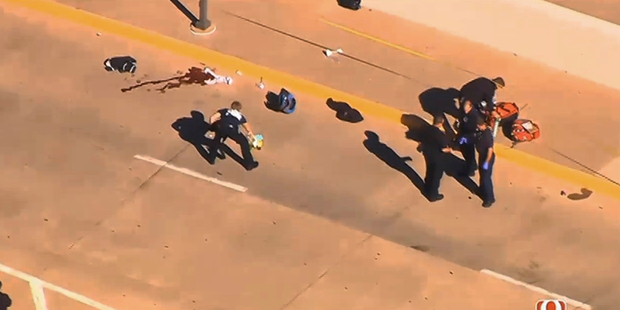 At least one person is dead after a shooting at the Will Rogers World Airport in Oklahoma.
Police have confirmed the deceased is Michael Winchester, an employee of Southwest Airlines.
Local media report he was aged 52 and operated as a ramp worker (i.e baggage handler).
The deceased victim from Will Rogers Airport has been identified as Michael Winchester, an employee of Southwest Airlines.

— OKC Police Dept (@okcpd) November 15, 2016
There are reports police are hunting a shooter who may have opened fire at the check-in counter and then boarded a flight.
KFOR reporter Lance West tweeted, citing unnamed sources, that police investigating the incident have discovered a 'sniper's nest' in the airport parking garage. The Oklahoma Police Department has yet to confirm that information.
My sources tell me police discovered a "sniper's nest" in the parking garage at Will Rogers Airport. #BREAKING @kfor

— Lance West (@lancewest) November 15, 2016
Passengers in at least three planes are sitting on the tarmac, KFOR reports.
Police are surrounding a plane at the airport tarmac and also searching vehicles and taking photos of license plates in the area.
Oklahoma shooting: One shot as airport is locked down https://t.co/AyxZ8tStCt #Oklahoma #7News pic.twitter.com/Ex021vIhTK

— 7 News Adelaide (@7NewsAdelaide) November 15, 2016
The airport was closed by police after the shooting and the only aircraft that has been allowed to land is a Federal Transfer Center aircraft carrying federal prisoners to a transfer centre on airport property.
Initial reports indicated one person was shot around 12.50pm Tuesday (local time) at the airport, KFOR reports. Police officer Megan Morgan has since confirmed the man died Tuesday afternoon (local time) after being shot earlier in the day.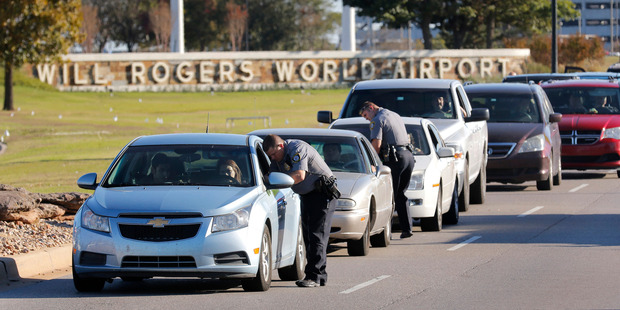 The man's name and other information was not released
Earlier Captain Paco Balderrama of the Oklahoma City Police Department said shots were fired in the airport's car park.
We can confirm that victim from shooting at WRWA is deceased. Airport still on lockdown as investigation is ongoing.

— OKC Police Dept (@okcpd) November 15, 2016
He confirmed that one person was shot, and that police were looking for a second reported victim, as well as the suspect. But police have since ruled out a second victim.
TV footage shows a pool of blood at the scene.
A FBI SWAT team was reported on the scene, and a bomb squad was called to examine a vehicle belonging to the possible suspect.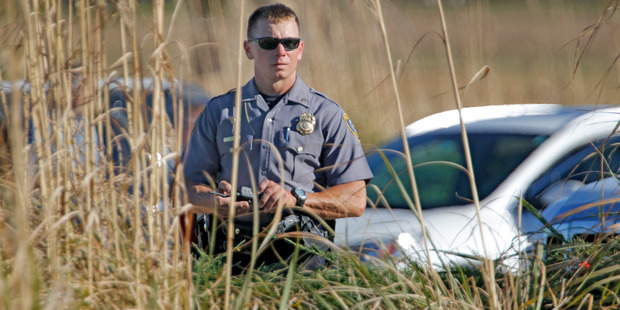 The Oklahoma City Police Department has closed the airport.
Those inside the airport have been asked to shelter in place.
Airport spokeswoman Karen Carney said arrivals and departures have been suspended until further notice.
"There are going to be some delays for flights until we have further information," Carney said, while referring other questions to police.
Carney said Southwest, American, Delta, United and Alaska airlines each have terminals at the airport on the city's southwest side, and 7000 to 8000 travellers pass through daily.
#LIVE VIDEO: Shooting at Will Rogers Airport in Oklahoma City. Watch here: https://t.co/OXDzdvLqqH pic.twitter.com/5qYnthRsUd

— ABC15 Arizona (@abc15) November 15, 2016
Southwest Airlines released a statement confirming that the 52-year-old man killed in the shooting was an employee of the airline.
"The Southwest Airlines Family is deeply saddened by the passing of our Southwest Family Member, and we extend our heartfelt sympathies and support to his family and Southwest Co-workers at this time," the press release read in part.
The airport is the main commercial air hub for Oklahoma City and services an average of 150 flights a day.
- with wires