Republican presidential nominee Donald Trump keeps peddling the notion the vote may be rigged. It's not clear if he does not understand the potential damage of his words - or he simply does not care.
Trump's claim - made without evidence - undercuts the essence of American democracy, the idea that US elections are both free and fair, with the vanquished peacefully stepping aside for the victor.
His repeated assertions are sowing suspicion among his most ardent supporters, raising the possibility that millions of people may not accept the results in November if Trump does not win.
The responsibilities for the New York billionaire in such a scenario are minimal. Trump holds no public office and has said he'll simply go back to his "very good way of life" if he loses.
LISTEN: USA Today correspondent Paul Singer speaks with Rachel Smalley about the state of the US election
Instead, it would be Democrat Hillary Clinton and congressional Republicans, should they win, who would be left trying to govern in a country divided not just by ideology, but also the legitimacy of the presidency.
As Trump's campaign careens from crisis to crisis, he's broadened his unfounded allegations that Clinton, her backers and the media are conspiring to steal the election. He's accused Clinton of meeting with global financial powers to "plot the destruction of U.S. sovereignty" and argued his opponent shouldn't have even been allowed to seek the White House.
"Hillary Clinton should have been prosecuted and should be in jail," Trump wrote yesterday on Twitter. "Instead she is running for president in what looks like a rigged election."
He also tweeted: "This election is being rigged by the media pushing false and unsubstantiated charges, and outright lies, in order to elect Crooked Hillary!"
Trump is referring to Clinton's use of a private email system while serving as Secretary of State. Republicans (and some Democrats) have harshly criticised her decision to do so, but the FBI did not recommend anyone face criminal charges for her use of a private email address run on a personal server.
Trump has offered only broad assertions about the potential for voter fraud and the complaints that the several women who have recently alleged he sexually accosted them are part of an effort to smear his campaign.
"It's one big ugly lie, it's one big fix," Trump said at a rally in North Carolina, adding later: "And the only thing I say is hopefully, hopefully, our patriotic movement will overcome this terrible deception."
Trump's supporters appear to be taking his grievances seriously. Only about a third of Republicans said they have a great deal or quite a bit of confidence that votes on Election Day will be counted fairly, according to recent poll from the Associated Press-NORC Centre for Public Affairs Research.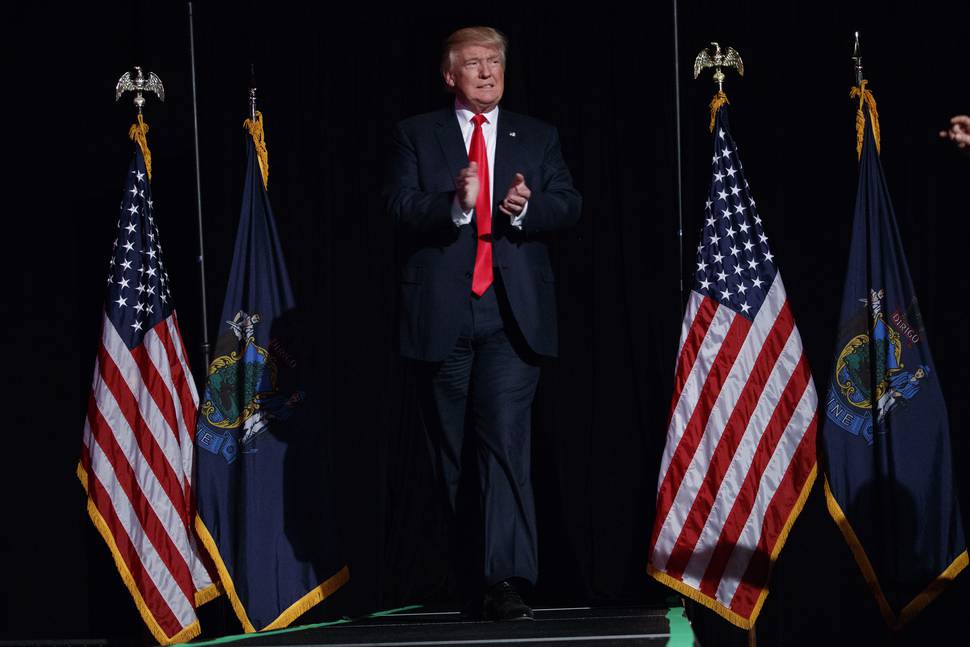 During a campaign event last week with Trump running-mate Mike Pence, a voter said she was deeply concerned about voter fraud and vowed to be "ready for a revolution" if Clinton wins. "Don't say that," Pence said, waving away the woman's rallying cry.
There is no evidence voter fraud is a widespread problem in the United States. A study by a Loyola Law School professor found that out of 1 billion votes cast in all American elections between 2000 and 2014, there were only 31 known cases of impersonation fraud.
Trump's motivations for stoking these sentiments seem clear.
One of his last hopes of winning the election is to suppress turnout by making these final weeks so repulsive to voters that some simply stay home. Trump advisers privately say they hope to turn off young people in particular. They lean Democratic but don't have a long history of voting and are already sceptical of Clinton.
Trump is also probably considering how he would spin a loss to Clinton, given that he's spent decades cultivating a brand that's based on success and winning. His years in public life offer few examples where he's owned up to his own failings and plenty where he's tried to pass the blame on to others, as he's now suggesting he would do if he's defeated.
Clinton appears increasingly aware that if she wins, she'd arrive at the White House facing more than the usual political divides. "Damage is being done that we're going to have to repair," she said during a recent campaign stop.
But that task wouldn't be Clinton's alone. The majority of Trump's supporters are Republicans. If he loses, party leaders will have to reckon with how much credence they give to claims the election was rigged and how closely they can work with a president who at least some of their backers will likely view as illegitimate.
Trump's claims drew a pushback from the office of House Speaker Paul Ryan, who has distanced himself from Trump's campaign. Ryan spokeswoman AshLee Strong said, "Our democracy relies on confidence in election results, and the speaker is fully confident the states will carry out this election with integrity".
Trump suggested yesterday without evidence that Clinton might have been on drugs at their most recent debate. Trump insinuated that something "is going on with her".
"Athletes, they make them take a drug test, right?" Trump said. "I think we should take a drug test prior to the debate. I do. I think we should, why don't we do that? We should take a drug test prior, because I don't know what's going on with her. But at the beginning of her last debate she was all pumped up at the beginning and at the end it was like, 'Oh, take me down.' She could barely reach her car."
Trump's campaign also announced fundraising numbers that showed he was at a 2-to-1 cash disadvantage against Clinton heading into October.