It was so close to the message that Republicans say they want from Donald Trump: a tweet describing Hillary Clinton as "crooked" and the "most corrupt candidate ever," on the morning that the likely Democratic presidential nominee met with the FBI.
But the image that Trump chose to illustrate his point, which portrayed a red Star of David slapped on to a bed of $100 bills, had origins in the online white-supremacist movement. For at least the fifth time, Trump's Twitter account had shared a meme from the racist "alt-right" and offered no explanation why.
"We've been alarmed that Mr Trump hasn't spoken out vociferously against these anti-Semites and racists and misogynists who continue to support him," said Jonathan Greenblatt, chief executive of the Anti-Defamation League. "It's been outrageous to see him retweeting and now sourcing material from the website and other online resources from this crowd."
The offending image first appeared in a June 15 tweet by @FishBoneHead1, an account with fewer than 1000 followers and a penchant for memes that mock Muslims, black Democrats and "cucks" - an alt-right term derived from the word "cuckold", for people they deem insufficiently conservative. According to Anthony Smith, a reporter for the news site Mic, it was shared on June 22 on a racist section of the 8Chan Web forum.
Trump's official Twitter account shared the image, with no hint of the origin, at 9:37am on Saturday. It came under fire immediately, with Trump critics like the conservative pundit Erick Erickson accusing him of "play[ing] to the white supremacists." By 11:19am, the tweet had been deleted, and the image was uploaded again with the star switched out for a circle.
That was more than enough time for critics and supporters to ask what exactly Trump was doing. On white-supremacist forums, Trump was cheered for apparently declaring his solidarity through not-so-subtle code.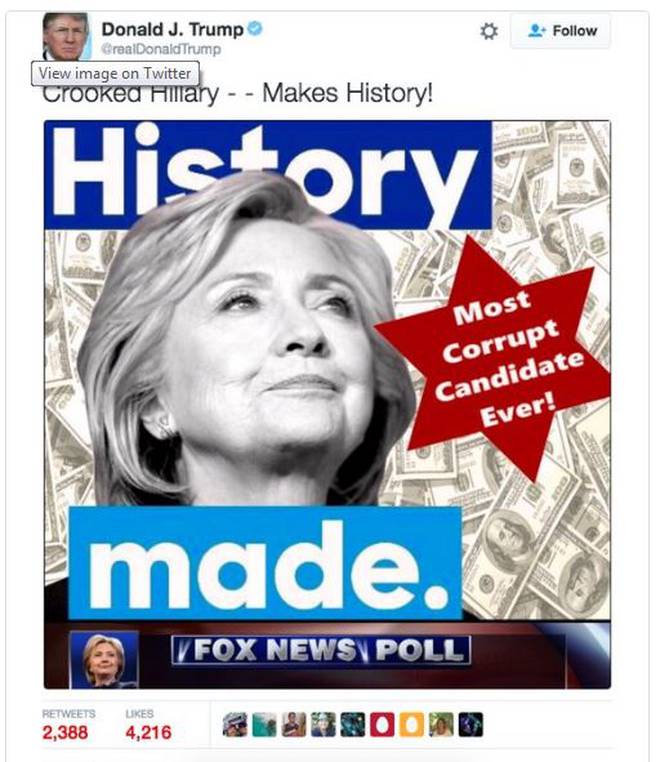 "The evangelicals will listen to his pro-Israel statements, while we will listen to his signals," wrote Andrew Anglin in the Daily Stormer, a racist site named after Julius Streicher's notorious Nazi tabloid. "By pushing this into the media, the Jews bring to the public the fact that yes, the majority of Hilary's [sic] donors are filthy Jew terrorists."
When asked about his support from white supremacists, Trump has typically - if belatedly, and under media pressure - renounced it and then criticised the media for not giving him more credit for the renunciation.
"I rejected them so strongly and so harshly, and then people say he didn't reject them fast enough," Trump told the conservative radio host Hugh Hewitt last month. "Between Facebook and Twitter, we have over 20 million people. I rejected them on Twitter."
Trump's campaign did not answer questions about the image, the decision to delete it or the decision to promote a new version. The Republican Jewish Coalition also did not respond to a request for comment.
On CNN's State of the Union, Corey Lewandowski, Trump's former campaign manager who is now a paid political analyst, blamed the controversy on "political correctness run amok" and members of the #NeverTrump movement who wanted to hurt the candidate.
"This is a simple star," Lewandowski said. "It's the same star that sheriff's departments across the country use, all over the place, to represent law enforcement."
But the skepticism of Trump critics was rooted in months of similar blunders. In November 2015, he tweeted a chart of bogus crime data from the fictional "Crime Statistics Bureau," which wildly overstated how many white people were killed by black people.
Charles Johnson, proprietor of the blog Little Green Footballs, traced the image to a Twitter user whose biographic information suggested that "we should have listened to the Austrian chap with the little moustache," a reference to Adolf Hitler.
In January, Trump retweeted a meme of a destitute-looking former GOP presidential candidate Jeb Bush and a comment in February about his rallies from @WhiteGenocideTM, an account that lists its location as "Jewmerica". In April, he retweeted a compliment from an innocuous-looking follower named Jason Bergkamp; a reporter from Fusion quickly discovered that Bergkamp had also praised Hitler.
"Trump support in the white-supremacist world is unprecedented," said Richard Cohen, president of the Southern Poverty Law Center. "The typical white-supremacist opinion of politicians is 'a pox on both their houses.' No one deserves their trust. But in Trump, they've found a champion."
On the campaign trail, Trump has repeatedly paid tribute to Israel and proudly noted that his daughter Ivanka is a convert to Judaism. But the ADL's Greenblatt, disturbed by the pattern of anti-Semitic support for Trump, wanted to hear more.
"I'd like to see Donald Trump reject these people with clarity and precision, the same way he rejected the other Republican candidates and the way that he has rejected folks on the Democratic side," Greenblatt said on Sunday.
"On the day after the passing of Elie Wiesel, arguably one of the most important moral figures of the 20th century, there is a chance for him to speak with similar clarity about what is in bounds and out of bounds. And the time is now."
Later Sunday afternoon, Trump responded to Wiesel's death. "On Saturday a great man, Elie Wiesel, passed away," he tweeted. "The world is a better place because of him and his belief that good can triumph over evil!"