1 Trump's Mad Man firm
A US$35,000 payment for "web advertising" in Donald Trump's most recent campaign finance filings is turning heads because of the firm's name: Draper Sterling. "Draper" and "Sterling" are the last names of two characters in the television show Mad Men, about an advertising firm called Sterling Cooper. Records show Trump's campaign paid Draper Sterling US$35,000 in late April. The business was registered in late March at an address in the town of Londonderry, New Hampshire. Campaign finance records also show payments of US$3000 each for "field consulting" to Jon Adkins and Paul Holzer, both listed at the same address as the business. Holzer said that the company provided "data analysis" and "spreadsheet" work for the Trump campaign.
2 North Korean missile
North Korea has fired a missile from its east coast, South Korea's Yonhap news agency reported, quoting a military official. It is believed to be an intermediate-range Musudan missile, Yonhap said. The missile appears to have failed, a South Korean military official says.
3 Cooler weather
Excessive-heat warnings in Southern California have largely retreated to the mountains and deserts, and areas closer to the coast are experiencing significantly cooler weather. Extremely hot and dry conditions in Southern California deserts have forced Joshua Tree National Park to close the popular 49 Palms Oasis hiking area. The park says water sources are dwindling and desert bighorn sheep will not come down to the oasis to drink if visitors are in the area.
4 NY characters boxed in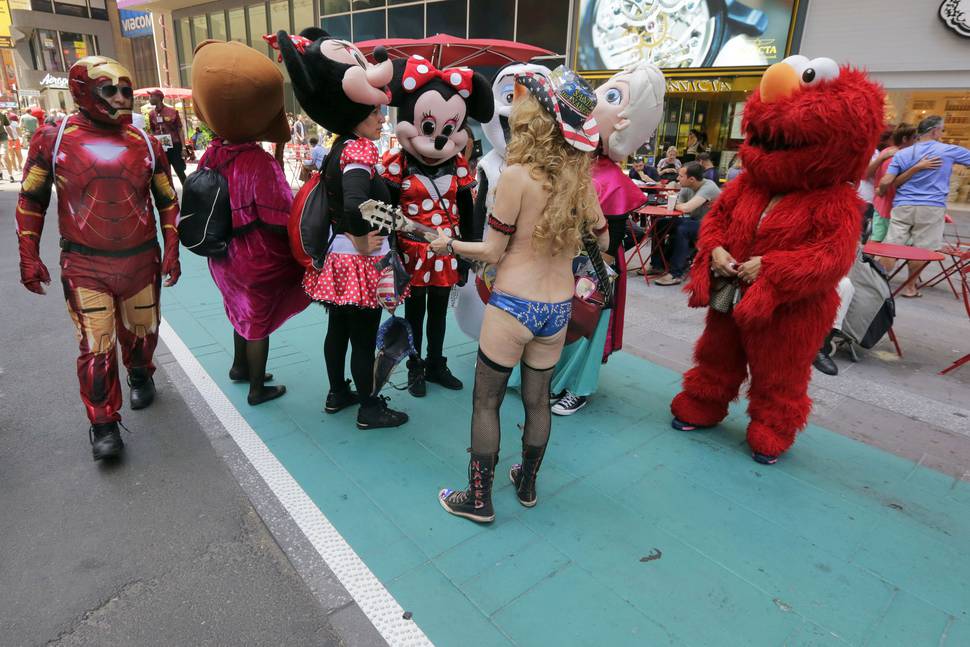 Elmo, Elsa and other costumed characters are getting boxed in at Times Square. New rules went into effect that restrict street performers to designated painted rectangles on the pedestrian plaza. The boundaries apply to anyone who is performing a service where there can be an exchange of money, including the costumed characters who for pose for pictures for tips and vendors selling tickets to bus tours or comedy shows. Those caught out of bounds could be arrested and face a fine of up to US$500 or jail time. The colour-coded zones are meant to rein in pushy panhandlers who have flooded the area.
5 Court rules out island transfer
An Egyptian court has struck down an agreement to transfer two Red Sea islands to Saudi Arabia, delivering a rare rebuke to President Abdel-fattah al-Sisi's Government over a decision that sparked the biggest street protests of his two-year rule. The Government, which is appealing the ruling, insists the islands always belonged to Saudi Arabia, which has provided billions of dollars in aid to Egypt since al-Sisi led the military's 2013 ouster of the Islamist Mohammed Morsi, Egypt's first freely elected president.
6 Talks on Venezuela
Top diplomatic officials from the US and Venezuela met against a backdrop of food protests and a campaign to recall unpopular President Nicolas Maduro. Senior US diplomat Tom Shannon flew into Caracas after weeks of looting and hunger riots rocked the South American country, leading to hundreds of arrests and several deaths. State Department spokesman John Kirby said Shannon hoped to foster dialogue about the social, economic and political challenges facing the socialist country, and would try for a meeting with Maduro.
7 Daring rescue
Flying through dangerous cold and pitch-dark, a small plane made a 2400km trip to evacuate a sick worker from a remote US science station on the South Pole. A Canadian Twin Otter plane left a British base in Antarctica for the nine-hour flight and it landed. The National Science Foundation, which runs the station, said the flight crew will rest for 10 hours. A second turboprop stayed behind on the ice-covered runway at the Rothera station in case something goes wrong with the rescue attempt. There have been three emergency evacuations from the Amundsen-Scott station since 1999.
8 Monkey business
There's some monkey business afoot at a Massachusetts zoo. WWLP-TV reports a 5.5kg guenon monkey named Dizzy escaped from its enclosure at The Zoo in Forest Park, in Springfield. The zoo is temporarily closed while employees try to recapture the animal. The zoo says on its website that an employee was cleaning the enclosure and had walked out to help a visitor when Dizzy twisted a doorknob and let himself out. The zoo says that had never happened before. Staff members located Dizzy inside the zoo and were trying to get him back into his enclosure.
9 Jaguar killed at torch ceremony
Brazil's Army says it had to kill a jaguar used in an Olympic torch relay ceremony after it escaped its leash and tried to attack a soldier. The army press office says Juma the jaguar was on display as part of ceremonies at the Jungle Warfare Instruction Centre in Manaus. It says that soon after the ceremonies ended, Juma escaped from his leash. When the jaguar tried to attack a soldier sent to recapture it, handlers shot the animal with tranquilisers. That failed to stop it, so the animal was shot with a pistol.
10 Foreigners killed
The killing of three foreigners the past two weeks in Medellin is causing alarm in Colombia's second-largest city as it struggles to leave behind its reputation as the one-time murder capital of the world. Danish tourist Tomas Willemoes was shot and killed last week at close range by an unknown assailant in a popular plaza in the city's most upmarket neighbourhood. His murder came just days after an Israeli and Mexican, both of whom apparently were living in Medellin, were also killed. Authorities are at a loss to explain the three killings.
11 Border attack in Jordan
Jordan sealed its last entry point for Syrian refugees after a cross-border suicide attack killed six members of the Jordanian security forces, wounded 14 and exposed the pro-Western kingdom's growing vulnerability to spillover from conflict next door. The closure raised questions about the fate of tens of thousands of Syrian refugees who are stranded in remote desert areas along the border, many of them for months, and depend on daily deliveries of food and water from the Jordanian side.
12 Belt of salt and biscuits
A man wearing a fake explosive belt filled with salt and biscuits sparked a major security alert in Brussels and an emergency meeting of key government ministers by claiming he would be blown up outside a shopping centre. Police said the man claimed to have been abducted and dropped off at the downtown City 2 complex. He said that the "suicide belt" would be detonated remotely, prompting a response that highlighted the state of frayed nerves among the security services and government. The suspect later admitted that he had made the whole story up.