Nigeria's President is criticised for parading teen as the military claims a second student is found, writes Aislinn Laing.
Human rights groups have criticised the Nigerian Government for parading one of the 276 abducted Chibok schoolgirls who was recovered this week in front of the cameras as she met President Muhammadu Buhari.
Amina Ali Nkeki was said to have been discovered by vigilantes fighting the terror group Boko Haram, which abducted the girls two years ago, wandering on the edge of the Sambisa Forest with her baby and a man thought to be a fighter for the group.
Another girl was said to have been found yesterday and the Governor of Borno State, Kashim Shettima, said the Nigerian military hoped to rescue more in the coming weeks.
Nkeki was briefly reunited with her mother and brother in her village on Thursday before being taken by helicopter to the Borno State capital of Maiduguri where its governor declared he would hand her to President Buhari "to present to the nation".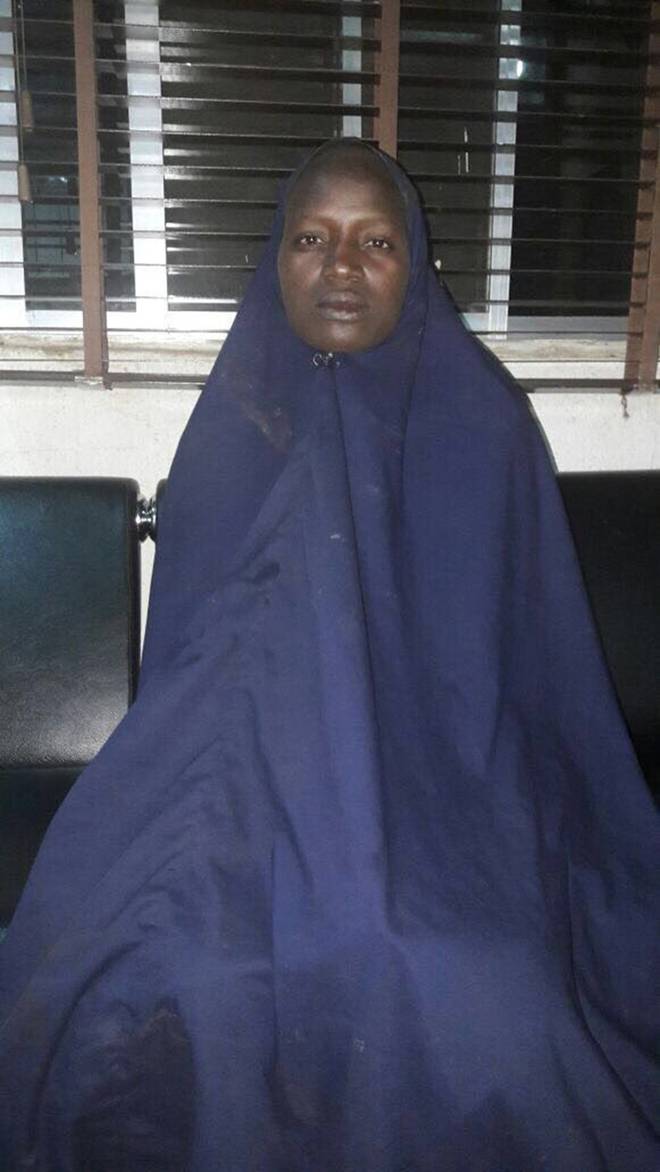 Pictures showed the President greeting first Nkeki then holding her 4-month-old baby Safiya, who is likely to be the child of one of the Boko Haram fighters who abducted her.
Meanwhile, security analysts questioned whether the girl's release had really taken place as billed and wasn't in fact a "good faith gesture" on the part of Boko Haram, which recently said publicly it wanted to enter peace negotiations with the Nigerian Government and last month circulated a "proof of life" video showing some of the girls.
Buhari said his delight at Nkeki's release was "tinged with deep sadness at the horrors the young girl has had to go through at such an early stage in her life". He vowed that returning her to school, and others like her, would be the Nigerian Government's priority.
"Although we cannot do anything to reverse the horrors of her past, federal Government can and will do everything possible to ensure that the rest of her life takes a completely different course," he said. "Amina will receive the best care that the Nigerian Government can afford. We will ensure that she gets the best medical, psychological, emotional and whatever other care she requires to make a full recovery and be reintegrated fully into society."
Army spokesman Colonel Sani Usman said the second student was found by troops and civilian vigilantes yesterday in the Damboa area of Borno state, northeast Nigeria, during military operations.
"Her name is Miss Serah Luka," he added in a statement, saying she was believed to be a Christian pastor's daughter and originally from Madagali, in neighbouring Adamawa state.
The girl was among 97 women and children held hostage by Boko Haram who were freed after clashes between soldiers and jihadist militants in northeastern Borno state, he said.
A photograph released by the military showed a young woman in a long, dark blue hijab common in the region and seen on abducted girls in previous videos from the Boko Haram Islamist militant group.
Boko Haram's shadowy leader, Abubakar Shekau, has previously claimed all the girls had converted to Islam.The Chibok girls are among thousands of women and children captured by Boko Haram in the past few years but they became a global cause celebre and generated criticism of Buhari's predecessor Goodluck Jonathan for failing to do more to find them.
For Buhari, who has waged a high-profile war on the corruption in the armed forces which it is claimed has allowed Boko Haram to flourish, the recovery of one of the Chibok girls is a golden opportunity to burnish his credentials with Nigerians but also the international community he relies on for help.
Francisca Vigaud-Walsh, a women and girls' rights lawyer from Refugees International who has worked extensively in Nigeria, said Buhari's Government had to date demonstrated an "arbitrary and haphazard approach" to helping former Boko Haram abductees to reintegrate back into their communities.
Many face shunning and stigmatism in addition to the psychological damage done by their association with terrorists. She condemned the parading of Nkeki before the cameras as "shameful" and said it demonstrated "zero respect for her needs and trauma".
"There are quite simply no formal programmes in place for women and girls who escaped or were rescued from Boko Haram to access specialised healthcare or to reintegrate back into society," she said.
Dr Stephen Davis, an Australian clergyman and former Nigerian government adviser who spent four months in Nigeria in 2014 trying to negotiate the girls' freedom, agreed any girls who make it back faced a bleak future.
"We have seen many girls and women who have escaped Boko Haram camps consigned to live in the streets, shunned by the community as they are either pregnant by a Boko Haram fighter or suspected of being a Boko Haram sleeper who will turn to suicide bombing," he said.
"For some this must be worse than the situation in a Boko Haram camp."
But her release, and her confirmation most of the girls were being held together, at least gave hope to other Chibok parents.
"The fact that this girl was found in the Sambisa Forest area in Borno State is encouraging evidence that not all the girls were dispersed to other nearby countries where kidnapped girls are often sold into slavery," he said.
Telegraph Group Ltd