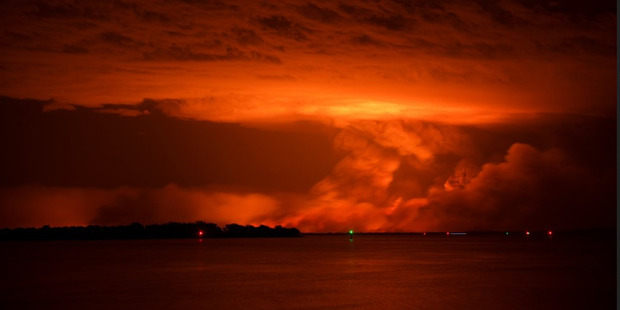 At least 143 properties in Western Australia, including the 128 houses in the tiny town of Yarloop, have been destroyed by a raging bushfire.
The blaze has killed two people and injured four firefighters, while 60 firefighters, five paramedics and three management support staff from New South Wales are helping local crews battling fatigue.
A third person feared missing has been found alive. As well as homes the flames have swallowed up sheds, caravans and community buildings.
More than 72,600ha have been burned since the lightning-sparked fire began last week.
#WA @abcnews on #WaroonaFire Blaze contained but not controlled, emergency warning remains https://t.co/gVi7hS8bR7 pic.twitter.com/ydwPeJ1IJu

— ABC Emergency (@ABCemergency) January 10, 2016
Several roads and recreation sites remain closed, with dairy farmers forced to dump thousands of litres of milk.
Nicole Ferraro said her father and brothers stayed to defend their properties and managed to save most of the herd, their homes and dairy but the rest of the farm suffered "a blackened fate".
"It's devastating. There's bugger all left." Residents recall horror of #WaroonaFire https://t.co/3FymMqKfhN pic.twitter.com/eOnyj2eK5Q

— ABC News Perth (@abcnewsPerth) January 8, 2016

"For the short term, their main focus is the well-being of the animals, keeping the cows milked and fed, as well as the supply of diesel which is needed to run the generator to keep the dairy operational and the milking herd healthy," she wrote on Facebook.
Western Power says thousands of properties remain without power but burned trees and debris in danger of collapsing must be cleared before crews can rebuild the network.
Waroona bushfire electricity update - More than 7000 customers are currently without power...https://t.co/Rm3s3r2rjT pic.twitter.com/6L61NWx3l6

— Western Power (@westernpowerwa) January 7, 2016
About 835 people have registered at two evacuation centres.
People wanting to help can donate money through the Lord Mayor's Distress Relief Fund. The state government has already committed A$1 million ($1.06 million).
Doreen Jones, from Emergency Wildlife Care Bunbury, said the centre was beginning to receive animals that had been recovered from the fire zone, suffering burns and smoke inhalation.
Hang in there guys! #WaroonaFire pic.twitter.com/pcV30dawOB

— Waroona Police (@WaroonaPol) January 10, 2016
"We've had two ring-tailed possums, a brush-tailed possum and a joey ... handed in to various people and vets."
Jones was concerned the fires may have decimated the echidna population in bushland near Yarloop.