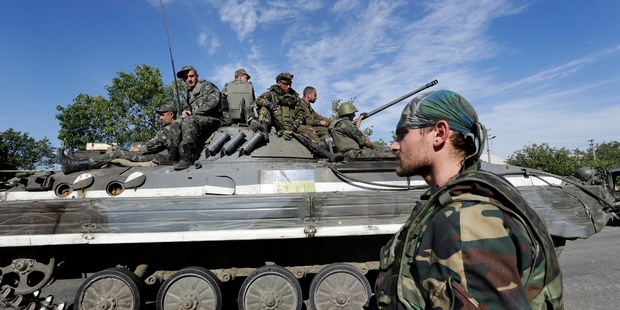 The biggest summit of Nato members and their allies in nearly a quarter of a century takes place in Wales this week, where leaders will be urged to shore up defences in the face of Russia's widening incursion into Ukraine.
Swathed in tight security in Newport and nearby Cardiff, Nato's 28 heads of state and government will map the future of their 65-year-old pact and seek closer ties with 33 "partner" countries at a two-day summit starting on Thursday.
The last mustering of the North Atlantic Treaty Organisation of such importance was in 1990, when Nato embraced central and eastern European nations after they had thrown off Communist rule the previous year.
After the Soviet Union collapsed in 1991, Nato invited the newly democratic Russia to open a new era of peace and dialogue. Those halcyon days of Nato-Russian co-operation now seem part of a very distant past. In less than six months, Russia, by annexing Crimea, backing ethnic Russian rebels in eastern Ukraine and issuing veiled threats against the gas exports on which Europe depends, has regained the de-facto status of No. 1 external threat.
The Ukraine crisis will dominate the meetings, which will also shape the response of Western nations and their allies to the conflicts in Iraq, Libya and Syria, Islamist terrorism and other issues.
"Russia's actions against Ukraine have challenged the fundamental principles of a Europe whole, free and at peace," says Nato. "An arc of crises surrounds the Alliance, with growing instability and security challenges across the Middle East and North Africa, and beyond, as well as newer threats such as cyber and missile attacks."
The US ambassador to Nato, Douglas Lute, described the Wales summit as a "strategic inflection point", coming at a time when the alliance's mission in Afghanistan, the longest military intervention in its history, draws to a close at the end of the year. "Russia's illegal aggression [is] the most severe challenge to European security since the end of the Cold War," Lute blogged last week.
The summit has been preceded by high-level meetings sparked by Nato accusations that Russia has sent around 1000 troops and supplied tanks, self-propelled guns and anti-aircraft defences to buttress the rebels, who had been in retreat following an offensive by the Kiev Government. European Union leaders at a summit on Sunday gave Russia a week to change course or face further sanctions, while the head of the EU's executive commission, Jose Manuel Barroso, warned that if the conflict escalated, "we may see a situation where we reach the point of no return".
Tough questions lie ahead in Wales, where Nato must decide how to respond to Ukraine's wish to join the alliance - an act that would infuriate Russian President Vladimir Putin. Ukrainian President Petro Poroshenko is due to take part in a joint Nato-Ukrainian panel and meet US President Barack Obama. Given that the summit will also include talks with "partners" such as Australia, New Zealand, South Korea and Japan, Putin will deeply suspect any move that, in his view, proves that the West seeks to encircle Russia.
Seven European states that were under Moscow's control during the Cold War joined the alliance in 2004.
Nato heads must also devise ways of beefing up combat readiness to support jittery eastern members, yet without provoking Putin further. In the longer term, they must revive military spending targeted at 2 per cent of national GDP, after nearly five years of decline and wean European states from their perilous addiction to Russian gas.
"Nato needs a realistic - not alarmist - assessment of the role the Russian leadership is playing currently in Europe," said Klaus Segbers of the Centre for Global Politics at Berlin's Free University. "Russia, unfortunately, has turned from being part of a solution of various problems to being part of the problem. Nato has to see this as it is. That probably will imply some more credible forward deployment of Nato facilities in Poland and in the Baltic states."
But what kind of deployment is one of the big questions. To reassure Moscow about its "Big Bang" expansion a decade ago, Nato refrained from moving forces into countries that share a border with Russia. So far, Nato's strategy in response to events in Ukraine has been to conduct more land exercises and air patrols. This policy is now punched with holes, given Russia's perceived break with the post-Cold War arrangement. The three Baltic states, Estonia, Latvia and Lithuania, backed by Poland and Britain, are leading the charge for the alliance to adopt a far tougher frontline defence. France, Italy and Spain are opposed, fearing it will fuel Russian anger, while Germany is sitting on the fence, according to sources in Brussels.
"Nato should immediately relocate bases into Eastern Europe, and should detail plans to provide a 'Berlin airlift' by escorted shipment of fuel into Ukraine to help it withstand the winter," said Michael Rubin, a former senior Pentagon official and now at the American Enterprise Institute. "At the same time, it is long past time that Europe sees its future in the Russian energy blackmail of Ukraine and establishes an independent and alternate energy supply."
A compromise could lie in a "Readiness Action Plan" that would pre-position fuel, munition and command facilities so that vulnerable countries could be reinforced swiftly in response to any Russian threat. Nato's top commander in Europe, US General Philip Breedlove, has reportedly proposed a base at the Polish city of Szczecin for this role.
"We have something already called the Nato response force, whose purpose is to be able to be deployed rapidly, if needed," Nato Secretary-General Anders Fogh Rasmussen said last week. "Now it's our intention to develop what I would call a spearhead within that response force at very, very high readiness."
Sarah Lain, a research fellow at the Royal United Services Institute, who specialises in the Soviet countries, said dialogue with Russia, to address its fears of Nato encroachment, was still possible. "Discussions are very difficult given Putin's continuous denial of any involvement in eastern Ukraine, but it's an attempt at de-escalation that may not have yet been exhausted."
Russia has employed several excuses for its troops being found inside Ukraine - often in the face of almost incontrovertible evidence, such as satellite images.
5 excuses Russia has for soldiers being in Ukraine
1. They were volunteers
"There are Russian volunteers in eastern parts of Ukraine. No one is hiding that."
- Russia's ambassador to the UN, Vitaly Churkin.
2. They are from video games
Russia's Foreign Minister Sergey Lavrov, commenting on reports about satellite images last week said previous imagery was from video games and the Nato photos "happen to be much the same quality".
"It's not the first time we've heard wild guesses, though facts have never been presented so far," he said according to Russia Today.
3. It was an aid convoy
Ukraine President Petro Poroshenko accused Russia of a "flagrant violation of international law" when its aid convoys entered Ukraine without its permission, the BBC reported.
4. It was an accident
After Ukraine said they had captured 10 Russian soldiers in Ukraine, near the Russian border, Russian officials said the whole thing was a misunderstanding, reported the BBC.
"The soldiers really did participate in a patrol of a section of the Russian-Ukrainian border, crossed it by accident on an unmarked section, and as far as we understand showed no resistance to the armed forces of Ukraine when they were detained."
- Russian Defence Ministry source to Russian news agency RIA Novosti.
5. They were on holiday
Pro-Russian separatist Alexander Zakharchenko claimed Russian soldiers in Ukraine were just "on holiday", the Guardian reported.
"And moreover, I'll say it openly, we also have current soldiers, who decided to take their holidays not on the beach, but among us." - Alexander Zakharchenko.
- Independent