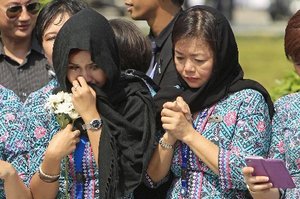 Nearly 200 cabin crew resigned from Malaysia Airlines following its double tragedy this year, causing crew shortages among the staff still working for the carrier.
Malaysia Airlines confirmed there was a 'spike' in crew members quitting their jobs following the loss of MH370 on March 8 and the shooting down of flight MH17 over Ukraine on July 17.
Read more:
• Netherlands plans MH17 commemoration event
• Kiwi MH17 victim finally identified
• Search for MH17 victims 'too dangerous' to continue
Among those who left their jobs, a number cited fears for their safety as the reason for their resignation.
The airline had a good safety record prior to the two accidents, but has been in the spotlight in the past six months for decisions made in the wake of the tragedies.
The airline said 186 crew had left in the first seven months of this year, with many blaming family pressure prompted by the incidents.
Malaysia Airlines confirmed in a statement: "Following the MH17 incident, there was a spike in crew resignations but the number has now decreased to acceptable and routinely expected levels".
"Many cited 'family pressure' as the reason for their resignation due to the MH17 and MH370 tragedies."
Watch: In sombre homecoming, Malaysia lays MH17 dead to rest

Abdul Malek Ariff, secretary-general of the employees union, said some crew members were "now afraid to fly". But the airline said it was providing emotional and psychological support to workers.

Speaking to the Edge Financial daily, Mr Ariff also said that crew shortages were forcing staff to work up to 12 hours a day.

The union represents about 8000 of Malaysia Airlines' 19,500-strong workforce.
The two tragedies killed 537 people in total, of which 27 were crew members.
Flight MH370 disappeared in March as it flew from Kuala Lumpur to Beijing. No trace has been found despite a a large-scale search in the southern Indian Ocean. The airline was widely criticised for its handling of the crisis.
Watch: Young son's premonition, hug before MH17

On July 17, flight MH17 from Amsterdam to Kuala Lumpur was shot down over war-torn eastern Ukraine, with another 298 people killed.
The ailing airline is currently being taken private by sovereign wealth fund Khazanah Nasional as part of an expected major overhaul to revamp the carrier.
Khazanah is expected this week to announce a series of restructuring measures including job cuts and axing of unprofitable international routes.
The carrier was already struggling before the two disasters, but has been plunged further into crisis in light of the recent tragedies.
- Mail Online