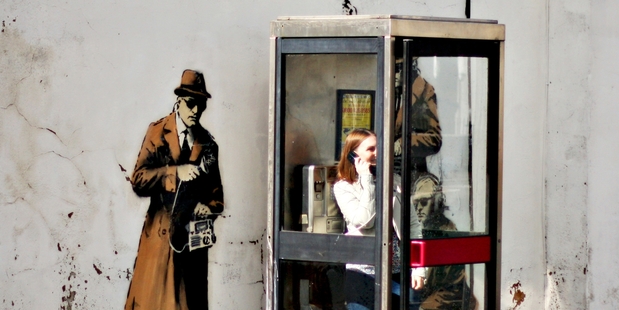 Thieves have made an audacious attempt to steal a Banksy artwork valued at 1 million ($1.97 million) by removing the bricks it was painted on from the inside of the building.
The Spybooth, which features three 1950s-style spies eavesdropping on a phone-box, appeared on the outer wall of an end-of-terrace house in Cheltenham, Gloucestershire, in April.
After several pieces of the wall were recently removed from the building without any sign of forced entry - the current owner of Spybooth, Hekmat Kaveh, is calling the attempted theft an inside job.
The local businessman agreed to buy the terraced house from the council for an undisclosed six-figure sum and has been looking to make a profit by selling it for 1 million.
He said: "It was a real surprise. When we realised the damage had been done we arranged to go in with the owner.
"There was a lot of damage. Brick work has been taken out all over the place. There is nothing wrong with the overall structure though.
"The council are involved to see if a crime has been committed because it's a Grade II listed building.
When the artwork first appeared on the 300,000 terraced house a bidding war ensued - with the council boarding up the wall to prevent vandalism.
After Kaveh agreed on a price for the house, the boarding was taken down so that people could enjoy the art - but the image was soon vandalised and drilled into.
The new internal damage is somewhat of a mystery though as no one is currently living in the property.
Kaveh added: "It's difficult to say how they got in. There was no burglary, let's put it like that.
"Someone had a key I'm guessing. There was no broken windows or forced entry."
- Daily Mail