Russia is scouring the world for produce to fill a $9.5 billion hole left by restrictions on Western food imports imposed last week
Montana lone ranger Darrell Stevenson knows it's wise to drink upstream from the herd.
When Russian President Vladimir Putin banned U.S. and European meat last week, the third-generation cowboy already had a leg up on the competition. With a ranch 550 kilometers south of Moscow, he stands to benefit from a market increasingly walled off from foreign rivals after Russia struck back against countries that imposed penalties over Ukraine.
"Sanctions in the long run aren't good for anyone," Stevenson said by phone after a 30-hour journey back to Hobson, Montana, on Aug. 9. "In the short term, they'll stimulate the growth and development of domestic herds. Within a year, a considerable amount of Russian-raised beef will be available."
Russia is scouring the world for produce ranging from Chilean salmon to Egyptian oranges to fill a $9.5 billion hole left by restrictions on food imports imposed last week. Much closer to home, the ranch near Voronezh run by Stevenson and his partners is jumping into the fray to help feed a nation of 143 million that imports about 40 percent of its beef.
With the government embarking on what Prime Minister Dmitry Medvedev calls a "new page" of agricultural development in the wake of tit-for-tat sanctions, the biggest challenge for Stevenson and his team is Russia's lack of ranch knowledge and infrastructure. In the Soviet Union, collective farming focused on dairy; cows were slaughtered for beef when they started to produce less milk.
Before to the 1917 revolution, Russia was an agricultural superpower, among the world's biggest wheat exporters with a flourishing beef industry. As the country learns again to feed itself, its ranchers have looked to the U.S. and Australia for expertise and resources.
In recent months, both countries have levied economic sanctions against Russia that were met by countermeasures announced by Putin. Russia already banned most U.S. beef imports early last year after saying they contained a feed additive.
Read also:
• Russia bans US and EU food imports
• Putin gamble goes wrong
• NZ could gain from Russia's Western food ban
• NZ set for bigger slice of cheese
• Exxon begins drilling in Russia - despite sanctions
In retaliation for the sanctions imposed on Russian companies and individuals over accusations of meddling in Ukraine, the government in Moscow banned an array of foods and agricultural products from the U.S., the European Union, Norway, Canada and Australia. The measures will "clean the shelves for our producers," Medvedev said.
Ilya Nitsenko, deputy director of beef producer Zarechnoe with more than 30,000 head of cattle in the Kaluga and Voronezh regions, is left unmoved by the economic showdown.
"We're used to working in a country where the business environment changes all of the time," he said in response to a question about the recent sanctions. "We haven't been doing anything particularly new. We just took the models that already existed in the States and Australia and adapted them to our conditions."
In 2008, in the face of warnings that raising cattle in Russia was "a strange, stupid and unprofitable idea," the company shipped 250 cows and 10 bulls from Nebraska by plane, he said.
Zarechnoe's products now feature on the menus of the Goodman chain of steakhouses in Moscow. Its Angus beef also won another convert, an American-style steakhouse in the Russian capital which had previously said it would only use beef from the U.S.
"We went down there a week ago Monday with my chef and sommelier to check it out," Ken Frost, general manager of Chicago Prime in Moscow, said by phone. "They were saying it was going to be exactly like U.S. beef and to my surprise the facility and the cattle were top notch by American standards."
Chicago Prime sells as many 4,000 steaks a month and is now reprinting its menus with only Russian beef, Frost said.
It's "something exciting to sell," he said. "Chicago Prime only sells the best. Russian beef from Voronezh."
Government policies have also helped. Then-President Medvedev signed the Food Security Doctrine in February 2010 that seeks to boost the share of meat consumption produced domestically to 85 percent by 2020 to reduce price swings and dependence on imports. Now serving as prime minister after swapping jobs with Putin in 2012, Medvedev said this week that he signed a decree to redraw the country's agricultural plans, with the government planning to allocate additional funds to do away with dependency on food imports.
Stevenson formed Stevenson-Sputnik with two Russian partners in 2010 and has since transplanted about 1,500 head of cattle by air and sea to their ranch. The group has invested $18 million in the venture, which is backed by subsidized loans from state-run OAO Sberbank and a guarantee from the government to reimburse 30 percent of costs.
The ranch is already supplying steaks directly to consumers in St. Petersburg, Russia's second-largest city.
Stevenson-Sputnik partners Sergei Goncharov and Alexander Buzuleyev started buying embryos and semen from Stevenson in 2007 to improve their Russian herd. Stevenson said he decided to go into business with the two ranchers after his father put him in charge of the family business in Montana.
"Supply is still the major concern," Stevenson said. "Russia is still in the growing phase and more cattle are simply needed."
Most of the cattle that Stevenson-Sputnik and other Russian producers have imported has been flown in on Boeing's 747 jumbo jets from the Great Plains, more than 5,000 miles away, adding to costs, Stevenson said.
Russia's ban since 2013 on U.S. beef over the feed additive has led to increased shipments from Europe, according to Stevenson. Neither the restrictions introduced in 2013 nor last week apply to frozen embryos, sperm or livestock, Stevenson said.
"Russia has been replacing the shortfall with some beef from Holland and Belgium," Stevenson said. "Brazil can pick up the extra slack in the meantime as it's the largest beef producer in the world. The U.S., Canada and Argentina don't have as many cows combined as the single cow herd of Brazil."
Stevenson said it was too early to say how much meat his ranch can provide and at what price.
"There is no reason why beef raised and slaughtered in Russia can't be cheaper," he said "In terms of quality, there has to be a proper and consistent grading system introduced."
Stevenson has spent all of June and some of July at the ranch in Voronezh, where his team have helped transform villagers into cattle hands.
"The biggest concern for Russia is that they can't yet produce what they consume," Stevenson said. "There is a vast amount of resources and so far they haven't reached their potential."
Cheese-loving Russians turn to Switzerland
At Intercheese's headquarters in Switzerland, the phone barely stops ringing these days. A Russian voice is usually at the other end.
Since Aug. 7, when Vladimir Putin's government banned many food imports from nations supporting sanctions due to the country's role in the Ukraine crisis, at least 14 Russian importers have contacted Intercheese. The reason for the surge in business: Switzerland hasn't joined the European Union, the United States, Canada, Australia and Norway in penalizing Russia.
"Russian importers are looking for the cheeses they can't get from the Europeans anymore - Mozzarella, Gouda and Edam," said Daniel Daetwyler, managing director at closely held Intercheese. The Beromuenster-based company sold as much as 20 tons of cheese to Russia in 2013 and will increase sales to the country of the varieties most affected by the EU embargo, even though it won't be able to meet the demand, Daetwyler said.
Cheese is Switzerland's most important agricultural export and the country's neutrality is providing local producers with an edge in selling Gruyere and Emmental to 142.5 million Russians. Swiss producers shipped 431 metric tons of cheese to Russia last year, according to the Swiss Customs Administration, just a fraction of the almost 63,000 tons exported globally.
"If the embargo remains, it's possible we'll export more cheese to Russia," Jacques Bourgeois, director of the Swiss Farmer's Union, said by phone, adding that Gruyere is among the Swiss cheeses with most potential as exports have increased in recent years. "But Switzerland is a small country, we can't just double production from one day to another. If there's more demand, of course we'll have to see that we can deliver. We'll be pleased about every additional kilo we can export."
Russia imported $25 billion of products on the banned list last year, $9.5 billion of which came from nations now blacklisted, according to Capital Economics Ltd. estimates.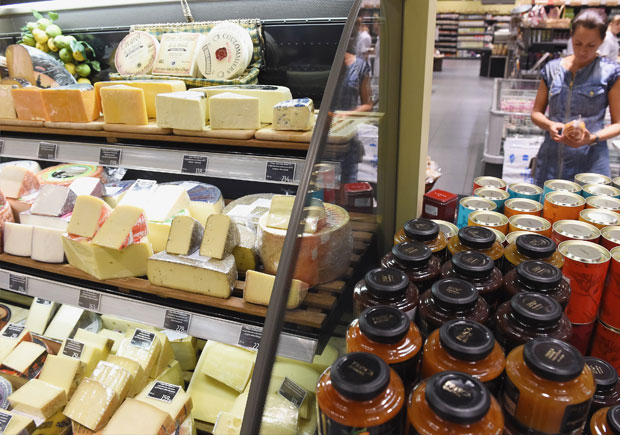 Russia has entered an embargo on delivery of most food imports from the West. Photo / Getty
Border guards in Russia and Belarus turned back trucks loaded with cheese, yogurt and meat, officials from Lithuania and Estonia said last week. The euro area exported more than 292,000 tons of dairy products to Russia last year, with the Netherlands providing almost a quarter, followed by Germany and France, according to Eurostat.
"The food-import ban has a rather limited effect on growth in the eurozone," Peter Vanden Houte, chief euro-area economist at ING Groep in Brussels, said by phone. "For some areas in the sector, oversupply could cause prices to drop."
According to Vanden Houte, there may be "some shifts towards Switzerland and it may profit from higher Russian demand as a substitute for European products - but I doubt it'd be able to strongly increase production to meet the demand."
Emmental needs 120 days to ripen, while Gruyere takes six to nine months to mature. Forty-three percent of Swiss milk was used to produce cheese in 2013, according to industry data.
"Swiss businesses are going to profit from the embargo," David Escher, director of Swiss Cheese Marketing, said in a phone interview. "If there is a new market and there is new demand, it could be interesting for Switzerland, which clearly has an advantage as it can continue to export. It will take some time to estimate to which extent."
Russia's affinity for premium food offers an "interesting consumer layer" to Emmi, Switzerland's largest milk processor, spokeswoman Sibylle Umiker said. She declined to say how much Emmi exports to Russia before its Aug. 27 results.
Enthusiasm about the increase in demand from Russian importers is partially overshadowed by the possible consequences of an unexpected lifting of the ban.
"There's a big danger related to it," said Intercheese's Daetwyler. "We can produce a huge amount of mozzarella, but if the sanctions are suddenly lifted, then we'll have full stock and face the same problems our neighbors in Europe face now."
For Andrey Danilenko, head of National Milk Producers' Union in Moscow, Swiss cheese producers could become a stand-in for those in the European Union.
"Imports of Swiss cheese to Russia may rise manifold," Danilenko said. "Switzerland may replace exclusive cheeses earlier shipped from other EU countries. Previously, a lot of cheese was imported from the Baltic states and Poland, which it couldn't compete with due to higher logistics costs."
Danilenko expects production in Russia and its ally Belarus to replace most of the volume that will drop out because of the ban. Even so, Swiss and Serbian cheese may partially replace the dropout, he said.
"Switzerland is located between Germany, Italy and France, therefore it can be a perfect substitute for cheese from any of these countries," he said.
Meat is also on the Swiss shopping list for Russian importers, according to Micarna SA, a meat producer based in Courtepin, Switzerland. The company was contacted even before the food-import ban was imposed, with requests for pork, especially bacon and sausage meat, liver and some sausages, Daniel Signer, Micarna's marketing head, said by e-mail.
"We assume they anticipated a boycott," Signer said, adding that in the short term, demand for Swiss meat products has already increased. "If it's economically sensible and the export procedure is secured, we'll try to meet the demand."
-Bloomberg