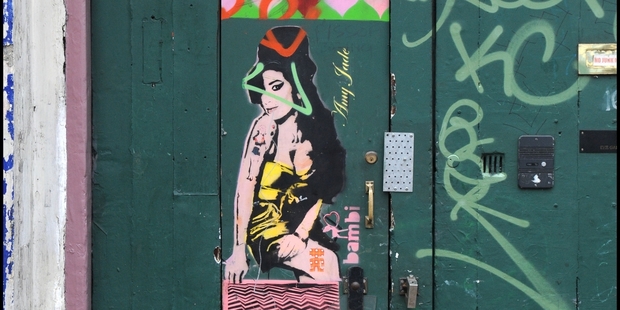 She has spent years dodging the police in north London, armed with her spray cans and stencils, but now Britain's leading female street artist, known as Bambi, has been propelled into a world of wealth and glamour.
When Kanye West presented the artist's semi-nude portrait of his bride, Kim Kardashian, as a wedding gift, it was the crowning moment for Bambi.
Just who is Bambi? The graffiti star was dubbed "the female Banksy" when she gained more widespread public attention in 2011 with the appearance of her striking image of the late Amy Winehouse on a Camden Town doorway. Like her male counterpart, she keeps her identity secret. And now, just like the renowned Bristol artist, her work costs tens of thousands of pounds: where once she simply paid tribute to the style of celebrities such as Winehouse, David Beckham and Kate Moss, today she is commissioned by international A-list entertainers, including Rihanna, Robbie Williams, Angelina Jolie and Brad Pitt. Pitt is thought to have paid 60,000 ($118,000) for Bambi's wedding portrait of the Duke and Duchess of Cambridge, featuring the slogan "A bit like Marmite".
Both Banksy and Bambi started as outsiders intending to undermine the sleek world of the modern art market. "There seemed to me to be a big divide between the dirty, organic, smelly process of art making and those sterile spaces in which art was being shown," Bambi said last month. She said the main reasons for her secret identity were "security and ... creative freedom". Many other street artists, including the increasingly sought-after Plastic Jesus have hidden identities. There are rumours that Bambi was once a successful recording artist who studied at Central St Martin's School of Art. Gossip about who she really is centres on the singers M.I.A or Paloma Faith.
Although she lacks the pointed wit of Banksy, Bambi's images are not all bland homages. Her 2010 Hero to Zero stencil "burner", or graffiti masterpiece, shows an aggressive-looking man with a dog on a chain and represents an ex-British soldier who has become mentally unstable on return from Afghanistan. She also created an image of Pope Benedict XVI giving a two-fingered salute labelled Rude Pope.
But dealer and gallery owner Paul Jones, who has represented street artists for 30 years, suspects the last juices have been wrung from an art movement that started in America. In Britain it was re-invented as a print buyers' market. "What is coming through now is a re-hash," said Jones, who runs Elm Lesters Painting Rooms. "I believe any art movement can really only last a decade ... Now it is all a bit of a gag or a game."
Critics are also asking what Bambi's high prices and popularity mean for the future of street art. Is the British boom ending in a glut of glittering fashionability? Street art, born out of urban alienation, seems to have become a desirable decor feature for those with money. In response, Jones has dropped all other artists to back Adam Neate, who began as a street artist and has developed an international following. "He is the best I have come across," said Jones, who presents a show of Neate's newest 3D work on September 5 at his gallery.
- Observer