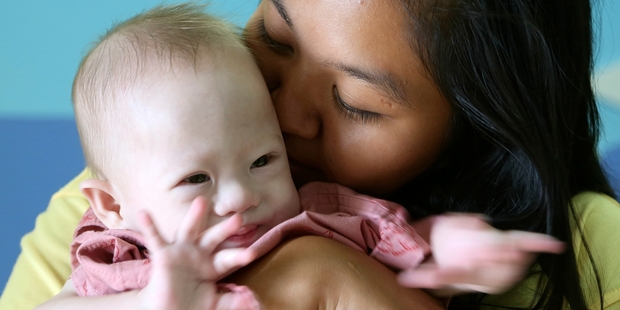 An Australian man accused of abandoning his surrogate boy in Thailand after learning the baby had Down syndrome was previously convicted of child sex offences in Australia, it is claimed.
The alleged development has raised further concerns about the oversight of international surrogacy.
Court documents show the man, believed to be the father of baby Gammy, previously abused at least three girls under the age of 13.
He was jailed in the late 1990s for sexually molesting two girls under the age of 10 and was sentenced to three years in jail.
While serving time, he was charged with six counts of indecently dealing with a child under the age of 13 and was convicted and sentenced again.
Australia's Channel Nine reported that the father of Gammy, who is 6 months old, spent time in jail for "indecently dealing with a child under the age of 13 in 1998". The man's wife, who is of Asian origin, was aware of the conviction but insisted he "was a good man". It is not known if the couple would have declared the alleged sex offence.
Scott Morrison, the Australian Immigration Minister, said officials were investigating whether the child may be eligible for Australian citizenship.
"We are taking a close look at what can be done here, but I wouldn't want to raise any false hopes or expectations," Mr Morrison said.
The Australian couple had said they did not know of Gammy's existence and that the Thai surrogacy agency only told them about his healthy twin sister, whom they took back to Australia.
However, new claims have emerged from a family friend saying they wanted to bring Gammy home.
The Bunbury Mail has quoted a family friend, saying the couple was not told Gammy had Down syndrome, only that he had a congenital heart condition and that "he had a day, at best, to live and to say goodbye".
The couple then became embroiled in a legal battle to bring home Gammy's twin sister.
"The biological parents were heartbroken that they couldn't take their boy with them and never wanted to give him up, but to stay would risk them losing their daughter also," the friend said.
Pattharamon Janbua, the 21-year-old surrogate mother in Thailand, claims the father met both children at a hospital there, but refused to touch or look at Gammy.
The Australian couple claimed they were shocked to hear they had produced twins.
- Telegraph Group Ltd, AAP
How the story unfolded
• Australian couple's biological twins born to Thai surrogate.
• Couple accused of abandoning boy with Down syndrome.
• Boy's healthy twin sister taken back to Australia.
• Claims surrogate boy's father has child sex convictions.