Trappist beer-makers struggle to keep up with global demand and to attract new recruits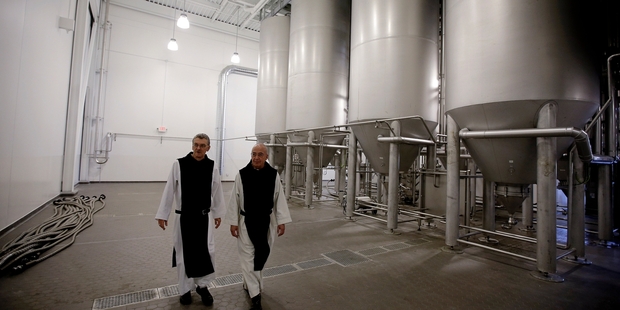 The huge success of Trappist beer has given a dwindling band of monks cause to reflect.
Brother Xavier is pragmatic about the declining community of monks at Orval Abbey in a leafy corner of southern Belgium. "Monastic life is not a question of numbers," he muses during a brief break in his daily routine of prayer, work and meditation. Besides, he says, although fewer European men are finding their vocation, Orval is now welcoming monks from as far away as Rwanda and Mexico.
Beer aficionados will be breathing a sigh of relief, as Orval serves not only as a place of quiet contemplation and worship: it is also one of a handful of monasteries in the world producing beer granted the hallowed label of Authentic Trappist Product. This means the ale is made behind abbey walls under the supervision of monks from the Trappist branch of the Cistercian order. When an erroneous report that Orval might lose its Trappist status because of the dwindling number of monks spread across beer blogs last year, the product started flying off the shelves.
This year marks an unprecedented expansion of the centuries-old tradition of Trappist beer. For the first time, a monastery in the United States has been granted permission to start its own brewing operations.
"There are 160 houses of the order in the world," says Francois de Harenne, Orval's commercial director, who is also the spokesman for the Belgium-based International Trappist Association. "Each of them must earn money for their own needs and the activities of the Belgian breweries are the most successful. We can sell our beers worldwide, and they were looking for new earnings."
Production at Orval has shot up 70 per cent in a decade, with demand surging in markets reaching from Canada to Japan. But commercial success has provoked some soul-searching for the monks. Their life is one of austerity and piety adhering to the strict rules of St Benedict: ora et labora - pray and work. Communities must be self-sustaining, with the proceeds of their labour supporting the monks or going to charitable projects, but no one can make a profit or materially benefit from their work.
Orval's community was first established in the 13th century, and the brewery was set up in 1926. Proceeds from Orval's ale are first spent on upkeep and charitable endeavours, before being reinvested in the brewery. The result is a small building tucked in a corner of the grounds and crammed with the most modern brewing equipment available.
However, global attention has been a mixed blessing. Since the Westvleteren ale produced by Saint Sixtus abbey in northern Belgium was named best beer in the world in 2012, the monks appear exasperated by the customers queuing at the gates, and have refused to increase production beyond 4750 hectolitres (a hectolitre is 100 litres) a year. At the other end of the spectrum, the Trappist Chimay brewery is increasing exports and does advertise, but has special dispensation as it is in an area with high unemployment and expansion meets a social need of the community.
When Orval's production peaked at 70,000 hectolitres in 2012 - up from 40,000 hectolitres in 2000 - the monks looked around at their handsome church, state-of-the-art brewery and portfolio of charities, and decided to cap production. "We have no other needs," says Brother Xavier.
Although it is an adherence to their spiritual goals rather than their dwindling community which is now causing shortages of Orval, a demographic crisis could threaten the smallest Trappist brewery, Achel, which has only six monks left in the community, most of them at least 70.
For decades, religious orders of all denominations have been battling a decline in recruits, with a rise in secularism and declining trust in the church blamed for the fall.
The Trappist order reports a decline of 20 per cent since 1940. Developing countries are providing some replacements, with 22 Trappist monasteries and nunneries across Africa and the same number in Asia. Orval's community is down to 12 monks from 35 a few decades ago, but the brewing is left in the hands of 35 lay people. This approach means that production is not affected by the fluctuating number of monks.
The expansion outside Belgium is also helping to keep the unique tradition alive. In 1997, Trappist status was bestowed on the Koningshoeven brewery in The Netherlands, and the past two years have seen a second monastery in The Netherlands, one in Austria, and St Joseph's of Spencer, Massachusetts, all being allowed to call their brews Trappist ale.
United States beer blogger Charles D. Cook, who runs drinkbelgianbeer.com, believes the expansion demonstrates the Trappist label can survive.
"The Trappists have monasteries all over the world and Spencer has over 65 monks," he says. "So if the Trappists want to they can definitely have some monks move around here and there as they have done for hundreds of years."
- Independent