The 100-day search for Malaysia Airlines flight MH370 has not yet explored the area most likely to be the final resting place of the plane because it was diverted by bogus "black box" signals, according to Inmarsat, the British satellite firm.
Australian authorities are expected to announce a revised search zone in the coming weeks after finding no trace of the plane in more than three months since it disappeared on its way to Beijing from Kuala Lumpur.
But the search has yet to arrive at the "hotspot" in the southern Indian Ocean where the plane most likely went down, according to calculations made on its most probable flight path by Inmarsat, the satellite company told the BBC.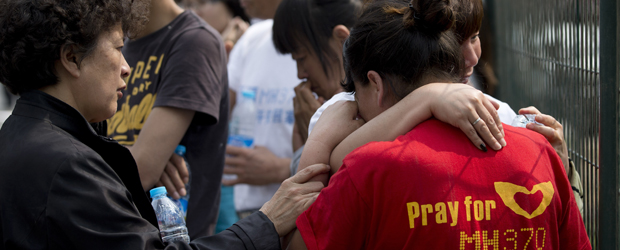 Relatives of passengers onboard the Malaysia Airlines MH370. Photo / AP
An Australian naval vessel dispatched to that site early in the search was waylaid when it picked up a series of acoustic "pings" that were then considered the "most promising lead", Australia's Joint Agency Coordination Centre said.
As a result, the search was diverted to a 330-square-mile area north-west of Perth. The search proved fruitless and the zone was abandoned at the end of May.
Inmarsat's Chris Ashton told the BBC that this was "by no means an unrealistic location", but was "further to the northeast than our area of highest probability". A spokesman for Australia's defence minister said the search had used the best resources at hand.
The Australian Transport Safety Bureau (ATSB) said that experts were continuing to examine satellite and aircraft performance data to determine the area that offers the highest probability of finding the aircraft. The total search area covers 23,000 square miles.
Next story - MH370: Who will pay for airliner hunt?