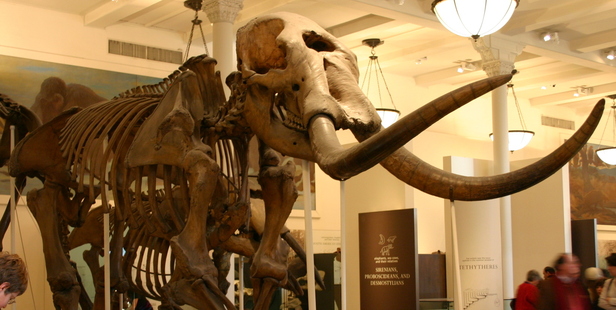 It's The Hangover-meets-Jurassic Park. While most stag parties involve paintballing, the pub or a strip club, one group of friends spent their big weekend instead doing some impromptu palaeontology, after they stumbled across a three-million-year-old mastodon skull while camping in New Mexico.
The friends were walking in the picturesque Elephant Butte state park, 240 kilometres south of Albuquerque, last week when they spotted something in the sand. One of the men, 31-year-old Antonio Gradillas, told local news station KRQE: "As we are cruising by, we see a large tusk or what seems to be a large tusk coming out of the ground about a good three to four inches."

App users: Watch the video here
The men started digging and eventually uncovered what would turn out to be a 450 kilogram fossilised skull, measuring approximately 5ft by 3ft, with its tusks still intact.
Read more:
• New dinosaur found (and why it's the 'chicken from hell')
And in what might seem an unexpectedly responsible gesture from a group of lads on a stag do, they then contacted Gary Morgan, chief palaeontologist at New Mexico Museum of Natural History and Science, to announce what they had found.
Mr Morganand his team of experts spent six hours excavating the fossil in full from its resting place beneath the silt. It has been identified as the skull of a stegomastodon, a prehistoric ancestor of the elephant, which stood some 9ft tall and weighed around 5900 kilograms. The species arrived in North America 15 million years ago and became extinct approximately 10,000 years ago.
Scientists said the fossil was probably under water for several centuries and had surfaced as the nearby lake steadily dried up.
Though the rest of the animal's skeleton appeared to be missing, it was possible to estimate from its teeth and location that it probably died around three million years ago, and was aged about 50.
Next story - World's oldest sperm discovered: 17-million-year-old cell
- UK Independent