Allies warn against delivering carriers while Russia meddles in Ukraine but Putin says stall will earn penalties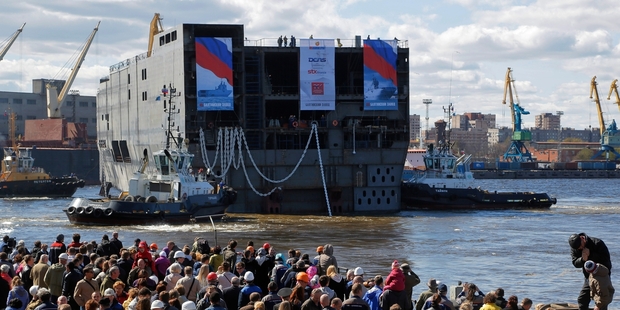 Nicolas Sarkozy thought it was a neat idea: sell Russia two advanced warships and open up a lucrative market for France's troubled armaments industry.
When the 1.2 billion ($1.92 billion) deal was inked on June 17, 2011, the French President batted aside concerns among allies eyeing Russian President Vladimir Putin with deepening suspicion after his war with Georgia three years earlier.
The contract "illustrates the strategic dimension of this co-operation for France and Russia and the constant support of the two heads of state to see it carried out", the Elysee presidential palace declared. More than 1000 jobs in France would be created over four years, it added. Three years on, Sarkozy's successor, Francois Hollande, can be forgiven if he privately rages over the problem that has now been dumped into his lap.
Reviled in the West for his seizure of Crimea and meddling in eastern Ukraine, Putin is only a few months away from acquiring the first of two high-tech helicopter carriers that, say critics, will enable him to project Russian military might even further.
The United States, Poland and other allies are heaping pressure on Hollande to ensure Putin is frustrated. "I have expressed some concerns, and I don't think I am alone," US President Barack Obama said last week. "I think it would have been preferable to press the pause button."
Polish Foreign Minister Radoslaw Sikorski, in an interview with Le Monde, said: "We have already named Russia as the aggressor in Crimea, and I don't think that France would like to be in the position of supplying effective weaponry to an aggressor."
The ships are of the 199m-long, 22,000-tonne Mistral class, three of which are in service with the French Navy. They offer a command base for amphibious and air assault, able to transport up to 16 helicopters, four landing craft, 60 armed vehicles and 700 troops.
The first ship, Vladivostock, assembled at the STX shipyards in St Nazaire on the Atlantic coast, is due to be handed over in October. The second is to be completed next year. Rubbing salt into the wounds, it will be called the Sevastopol, named after the base in the now-annexed Crimea that Russia has long used for its Black Sea fleet.
Four hundred Russian sailors are expected in St Nazaire on June 25 to begin training on the first ship.
For now, Hollande is playing for time. On May 10, he said a deal was a deal, and the contract was going ahead "for now". Foreign Minister Laurent Fabius and Defence Minister Jean-Yves Le Drian have said a decision on whether to suspend the handover would be made in October and hinted it would hinge on moves by other European countries - a veiled warning to Britain and Germany, whose financial and industrial sectors respectively do big business with Russia.
Hollande is having to balance joblessness and moral principles, which he identified as priorities after the sleaze-tainted Sarkozy years. The Mistral deal is crucial for the state-owned DCNS and semi-privatised STX shipyards. "You can't do business and profess to be applying human rights at the same time," centre-right politician Rama Yada said. The far-right National Front, which has spoken favourably of Putin, accuses Fabius of being Obama's "butler" and plotting an act of "treachery, pure and simple".
Russia is playing carrot and stick. Its state arms company, Rosoboronexport, says it is delighted the work in St Nazaire is going ahead on schedule, which demonstrates "France's reliability as a partner". It has also warned of heavy penalties if the deal is cancelled. Parts of the ships are being built in Russia and then towed to France for assembly.
Other solutions are being aired. France could sell or lease the carriers to Nato, according to an idea put forward by a group of influential US congressmen. Claudia Major and Christian Moelling at the German Institute for International and Security Affairs suggest the EU buy the two ships and hand them to the Netherlands and Belgium for joint command. The vessels could be used as defence for European coastlines but also for transport or as a hospital ship in humanitarian disasters abroad.