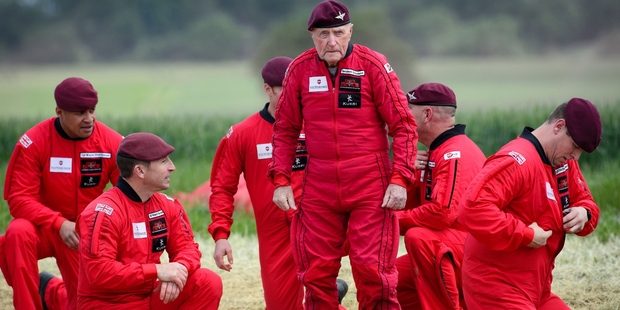 "During my lifetime, sir, I have never been terrified. I am a vicious little Scotsman," said Jock Hutton after falling to earth from 1800m. The paratroopers were back in Normandy, among them the 89-year-old veteran of D-Day.
Hutton was responding to the question of whether the parachute jump yesterday was as terrifying as the one he had made 70 years ago when he was among the first wave coming in for days of fierce fighting. On that night, flares were lighting them up as targets for machine-gun fire rising from the ground. Many of his comrades were going to be killed in the next few days and he himself would suffer severe injuries, with shrapnel in his stomach.
On this occasion, the former private jumped in tandem with Colour Sergeant Billy Blanchard on this 70th anniversary of the war being taken to Hitler across the Channel. Upon congratulations from Prince Charles, he nodded: "Aye, there aren't many of us left." A few minutes later, Hutton ran into Ben Marsh, also 89, a fellow paratrooper with whom he'd served in the Ardennes, and his voice went deeper into his Stirling roots:
"Och, you old beast, I thought you was deid!"
This is probably the last gathering of the clan for the 650 from all three services who had travelled to France for the anniversary; almost all are now in their 80s and 90s. The numbers among the Parachute Regiment gets thinner every year; Hutton was the only one to jump this year.
Cyril Cook, 91, a fellow member of the 12th Parachute Battalion, said: "People often ask, 'Weren't you afraid?'. What a stupid question! Of course we were afraid, but it was a job and you just got on with it and it was the right job to do."
There was regret among a few that the sacrifices made to stop Hitler were not fully recognised back home. "One of the reasons it's wonderful to be here is because everyone is interested in you," explained one 94-year-old who had served with the 51st (Highland) Division of the Scottish Horse Regiment. "Back home, nobody is interested in us. We're just old people."
He had seen the full horrors of fascism as one of the Allied troops who discovered what was going on in Bergen-Belsen concentration camp.
As a young girl, Arlette Gondree was in a cafe which became known as the first building in Normandy to be liberated by Allied troops. Standing beside some of the old soldiers at Pegasus Bridge yesterday, she stressed: "These are the real heroes - we owe so much to them here. We became a family then.
"But this is certainly the last time: they've reached a certain age, as I have. We don't know what the future will bring, but maybe we'll meet each other again at another place at another time."
- Independent