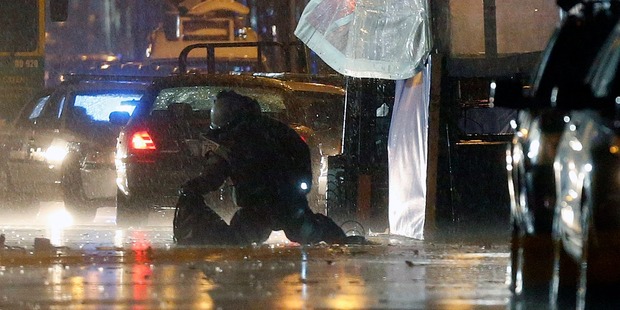 A suspect is in custody after police had to blow up two black backpacks dumped at the finish line of the Boston Marathon.
Police found the two unattended bags this morning, one year on from the Boston bombings.
The area surrounding the finish line was evacuated while the bags were destroyed in a "controlled detonation", police said.
A man who owned the bags was arrested, police spokesman David Estrada told US media.
The bomb scare came shortly after a ceremony commemorating the victims of the Boston bombings, where two bombs in backpacks killed three people and injured more than 260 others.
A flag-raising ceremony and moment of silence was held at the marathon finish line earlier today, to mark the time and place where two bombs exploded on April 15, 2013.
Authorities say two brothers planned and orchestrated the attack. Tamerlan Tsarnaev, 26, died following a shootout with police several days after the bombings.
Dzhokhar Tsarnaev, 20, has pleaded not guilty to 30 federal charges and is awaiting trial. He faces the possibility of the death penalty.
The Tsarnaevs, ethnic Chechens who lived in the former Soviet republic of Kyrgyzstan and the Dagestan region of Russia, settled in Cambridge, outside Boston, more than a decade ago after moving to the US as children with their family.
Prosecutors have said Dzhokhar Tsarnaev left a hand-scrawled confession condemning US actions in Muslim countries on the inside wall of a boat he was found hiding in following the police shootout.
Watch: Boston bombings: One year on
- nzherald.co.nz