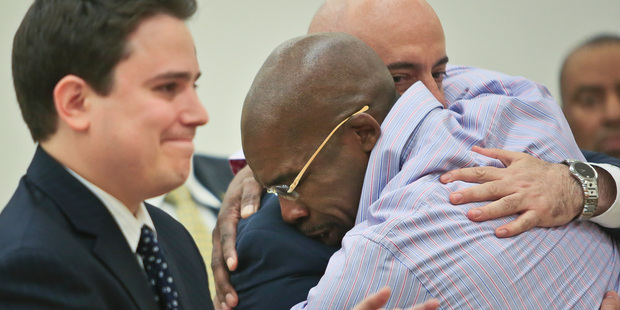 A New York man convicted of murder despite being at Disney World in Florida at the time of the crime has walked free after serving 25 years in jail.
Jonathan Fleming, 51, had lost several appeals against his conviction for the 1989 murder of Darryl "Black" Rush but was finally freed as part of a wider review of unsafe prosecutions. A hotel receipt proved he was 1,1,00 miles away in Florida five hours before the killing, and police there had sent a letter confirming that hotel staff remembered him paying.
But prosecutors said the receipt - along with postcards, plane tickets and even a video showing that Mr Fleming was in Orlando with his mother on the day of the murder - was not conclusive, claiming he could have flown from Florida in time to commit the crime. They argued that the shooting, which took place in the New York City borough of Brooklyn, was motivated by a dispute over money.
A key witness to the crime, who placed Mr Fleming at the scene, recanted their testimony soon after his 1990 conviction, but he was not freed for more than two more decades.
Moments after his case was dismissed, Mr Fleming said: "I feel wonderful. I've always had faith. I knew that this day would come."
His mother Patricia, who always maintained his innocence, shouted: "After 25 years come hug your mother." The two then embraced. During the review of the case, lawyers discovered that prosecutors had failed to provide the defence with the receipt and police letter, in apparent contravention of rules governing disclosure. Brooklyn's district attorney Kenneth Thompson said he had dropped the case because of "key alibi facts that place Fleming in Florida at the time of the murder".
The conviction came under the controversial watch of former district attorney Charles Hynes, who allegedly oversaw a number of questionable convictions.
Asked what he planned to do next, Mr Fleming said: "I'm going to go eat dinner with my mother and my family, and I'm going to live the rest of my life."