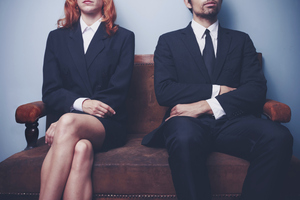 A UK High Court judge has launched an extraordinary attack on out of control foreign divorce cases being fought in England by wealthy couples who are squeezing out needy litigants.
Mr Justice Holman spoke out during a one-day hearing in the battle between Pauline Chai, 66, a former Miss Malaysia, and her estranged husband Khoo Kay Peng, 75, who owns a 40 per cent stake in Laura Ashley.
Referring to the phenomenal costs the court battle was racking up, the judge said such cases meant parents were forced to wait for precious court time to recover their children from abduction.
Neither Ms Chai nor Dr Peng are British citizens and neither pays taxes in the UK. Ms Chai, who owns a 30m property in Hertfordshire, has so far incurred 920,000 costs in this country alone.
Together they have spent 1.6m on what Mr Justice Holman described as preliminary skirmishes.
It is yet to be decided whether the full divorce hearing takes place in England or Malaysia. The judge said the pair had contributed a mere 2,355 so far towards six days of court fees.
The legal costs which have been incurred already can only be described as eye-watering, said Mr Justice Holman.
Very serious issues ought to arise as to just how much time of an English court these parties should be able to take up on these preliminary skirmishes, whilst squeezing out the many needy litigants who need precious court time to recover their children from abduction or seek their return from care, and other such issues.
The judge said it "borders on the fantastic" that 10 days of precious court time have been set aside in October for the High Court to consider whether the divorce should take place in England or Malaysia. A one-day hearing last week for an application for further maintenance cost Ms Chai 55,000.
Mr Justice Holman said: "If that is the level of fees for a one-day hearing the thought of the cost of the projected 10-day hearing in October is little short of mind-boggling At the moment it appears to me that this worldwide litigation is completely out of control."
Ms Chai is represented by Ayesha Vardag, the Diva of Divorce, who told The Independent that the legal fees in Chai v Peng were small beer for the ultra-rich.
When you have a couple trying to divide up billions or hundreds of millions, the legal costs are generally high, because theres enough at stake to make it worth it, she said. Its the biggest financial transaction most people will ever undergo. You can be required to pay half your total wealth to your ex.
The legal fees are small beer in the big picture in cases for the ultra-rich. Of course, those too are taxed and pay the salaries for the judges and the infrastructure of the courts. Big cases are what make English justice affordable for the needy.
Marilyn Stowe, a senior partner at Stowe Family Law, said divorce cases involving wealthy couples had risen since a landmark case in 2000 when the concept of equal sharing became the accepted starting point for financial settlements.
Although the courts are not awash with such cases, she said, they do make you wonder whether there should not be a different structure or court system for [the wealthy] to litigate in appropriate cases.
Ms Vardag agreed that the courts were clogged up and that wealthier couples should move into arbitration. She said: Deserving cases really are delayed Arbitration frees up the public courts for the needier cases and is the solution to this problem.
Mr Pengs solicitor is Baroness Shackleton of Belgravia whose clients have included Sir Paul McCartney. Her firm, Payne Hicks Beach, declined to comment.
- UK Independent