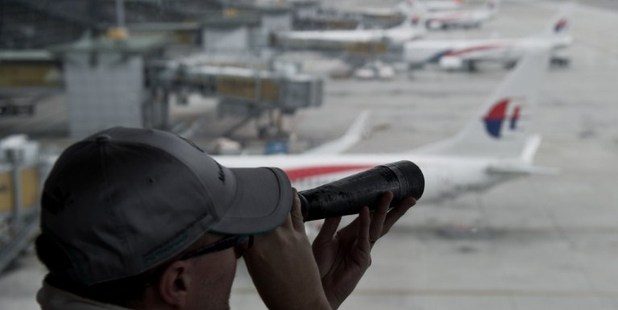 The name of the way point, or marker, IGARI, was spelled out in bold white capital letters, clear against the blackness of the radar screen. The route being taken by the plane was etched in green. The jet itself was a yellow cross.
When it reached the way point, 40 minutes or so after a steady climb out of Kuala Lumpur, the aircraft started to turn westwards. The turn was slow to start with, almost indiscernible.
But then it cut more deeply, banking and turning around by 270 degrees. Very soon the plane was pointing westwards, towards Penang and a way point called VAMPI. It would then change tack again, heading north-west to a station named GIVAL and, after that, disappearing.
Masking the jets position from the eyes of civilian aviation teams would have been as simple as turning a knob. "Just switch it to the left and the transponder is off," said Captain Amin Said.
Read more:
• Flights that disappeared: 10 aviation mysteries
This is the series of events believed to have taken place before Malaysian Airlines flight MH370 vanished soon after taking off for Beijing. And, as The Independent discovered yesterday when it repeated the planes actions in a dizzying flight simulator, taking the Boeing 777 off course might have been moderately easy.
Captain Amin, the director of SimFlightKL, based at Kuala Lumpurs Subang airport, said flightpaths were programmed into an aircraft's autopilot and navigation systems before take-off. Changing the route could be achieved by tapping in new co-ordinates. It would require a degree of skill and knowledge, and some practice. But it might not require vast flying experience.

Photo / AP
In the days since MH370 went missing, leaving just a digital spectre of its presence, investigators have focused their attention on the 53-year-old pilot, Zaharie Ahmad Shah, a veteran of 30 years' flying, and first officer Fariq Abdul Hamid, 27. Malaysian police have said that, along with the help of foreign agencies, they are looking into the history and psychological background of all passengers and crew, searching for a militant link or someone with a flying history. They have recovered a flight simulator from the home of Mr Zaharie, a father of three, programmed with at least five runways in India, the Maldives, Sri Lanka and Diego Garcia.
Officials believe the final verbal contact with the Boeing involved co-pilot Mr Fariq, who was soon to marry. That conversation took place at 1.19am as the plane approached IGARI and air-traffic controllers warned the pilots that they were about to enter Vietnamese airspace. "All right. Good night," came the response. Officials are said to be examining the tone of Mr Fariqs voice and whether he sounded stressed.
Yet for all their efforts and suspicions, the authorities have come up with nothing. The families of the pilots insist they are innocent, and that they are victims themselves.
Captain Amin counts Mr Zaharie among his friends. He said he had known him since 1997 or 1998, their friendship having grown from a mutual interest in flying remote-controlled model aircraft. He said Mr Zaharie was a flying nut who would sometimes bring his children with him when they went to try out their models. He is a family man, he said.
Read more of the Herald's Flight 370 coverage today:
• Flight 370: What if it's never found?
• Hunt hampered by lack of cooperation
• Theories abound as officials fail to find answers
• Flight path programmed in
Mr Amin said he believed it was impossible that Mr Zaharie could have seized control of the jet and taken it off course. He also said there was nothing unusual about him having a flight simulator at home. "All the pilots do it. The co-pilots in particular have them because they are trying to get better," he added.
Mr Amin's comments echo those of many within the flying community, who said they could not believe Mr Zaharie or Mr Fariq were responsible for what happened to the plane. Flight crew on board a recent Malaysian Airlines flight to Kuala Lumpur said they believed MH370 was hijacked, "but not by the pilots". Mr Amin's colleague in the simulator, Arobi Rosli, said he also believed someone else must have taken control of the aircraft.

Photo / AP
"When it went missing we thought there must have been an accident. Then we heard there had been a turn-back so we thought there might have been engine failure," said Mr Rosli, 28, who completed flying training six year ago. "But they have found nothing."
Soon after MH370 veered west at IGARI, data from satellite systems show that its altitude plunged sharply. Officials are investigating the theory that whoever was in control flew intentionally low, engaging in "terrain masking" to try to avoid radar.
Watch more:
• Search for Malaysian jet enters 10th day
• Australia, US launch search for jet
• Search area for jet 'big as Australia'
Yesterday's simulated flight did the same. Mr Rosli tapped at the controls before him and soon the altimeter showed the aircraft nosing down towards the ocean. Mr Amin turned off the lights to mimic the night sky that would have confronted whoever was in control of the plane when it flew off course 11 days ago. It was black, but for a few stars. The jet continued to descend. Before long it was flying at just 5,000ft. The noise from the engines - barely noticeable before - rose sharply but there was no turbulence.

A young Malaysian boy prays at an event for the missing passengers. Photo / AP
Aviation experts say the Boeing 777 is a solid plane, easily able to fly for extended periods at a low altitude without structural problems. But they point out that it would use fuel much more thirstily, perhaps limiting its range by half. Flight MH370 had enough fuel for about seven-and-half-hours of normal flying.
The simulated flight continued westwards, heading to way point GIVAL, about 320 kilometres north-west of the island of Penang. This was where MH370 was last plotted by Malaysian military radar, at about 2.15am. Officials believe that at this point, it either headed north or south. The final "ping" from the back-up of its disconnected satellite communications equipment was recorded almost seven hours later, at 8.11am.
Data collated by London-based company Inmarsat suggest that at that point the plane was flying along one of two arcs - a northern corridor leading from Thailand to Kazakhstan, or a southern route over Indonesia and the southern Indian Ocean. Officials are searching both and consider them equally important.
But what did Mr Amin think?
"If they were going south, then why would they turn to GIVAL?" he said. "Also, going north would offer more landing places."
- THE INDEPENDENT