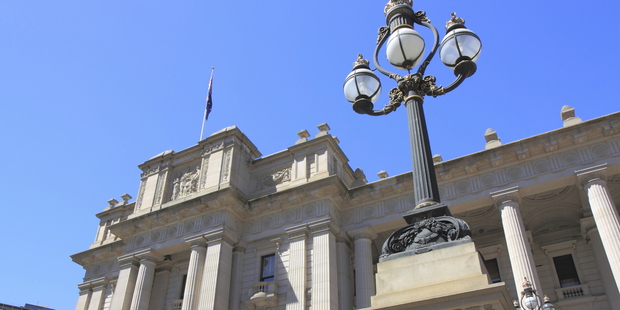 Almost a month has passed since leading conservative politician Troy Buswell left a wedding reception and drove home in his ministerial car.
The Western Australia treasurer didn't have far to go - just over two kilometres. But it appears to have been an eventful trip.
A police investigation is trying to establish if he collided with at least four vehicles and a power pole before crashing into the front fence of his own home.
It's the latest in a series of controversies that have defined the career of Buswell, a father-of-two who earned worldwide notoriety for sniffing the chair of a female colleague.
Outrageous and sexist antics might be his achilles heel, but colleagues don't call him Teflon Troy for nothing.
Before last month's wedding at Perth's historic Mt Eliza House, he was widely tipped as a shoe-in to lead the governing Liberal Party to the next state election in 2017.
But even Buswell's most ardent supporters doubt his seemingly Lazarus-like powers of recovery can now revive those political ambitions.
Hours after he got home, his chief of staff told Premier Colin Barnett her boss had suffered a mental breakdown. Buswell then reportedly spent more than a week in medical care and has since resigned from cabinet.
Political rivals smell a rat. "Driving a vehicle whilst extremely intoxicated is inexcusable under any circumstances," says Labor opposition leader Mark McGowan, who is demanding a public inquiry into a potential cover-up.
The Premier has dismissed the calls as "distasteful". He maintains Buswell's mental health issues are private. "He is not in a good place," Barnett told reporters before the drink-driving allegations became public. "Troy has had a turbulent career. Tragically, maybe it all become too much."
Few have stuck by the silver-haired larrikin quite like the man who replaced him as leader of the state opposition in the wake of the chair-sniffing affair in 2008.
Initially, the Liberal Party stood by their leader, who not only "writhed in mock sexual pleasure" after smelling the staffer's chair, but also also appeared in parliament drunk, snapped a Labor Party staffer's bra and made sexist remarks to a female Liberal MP.
Only when internal polling later forecast electoral disaster did Buswell finally fall on his sword.
After winning government, Barnett rewarded his predecessor with the treasurer's job and several other senior portfolios.
Then came an affair with a Greens MP that spelled the end of his marriage and seemingly, when he resigned from cabinet after he and his lover used government allowances to pay for accommodation, his ministerial career.
Nine speeding offences proved no barrier when Barnett tempted him back with the transport and housing portfolios just eight months later.
It wasn't long before Buswell was again given the treasurer's role, and Barnett is said to have favoured the 47-year-old as the best man to lead the party at the next election.
"Troy is an outstanding minister, controversial from time to time, but no-one can doubt his intellect," said Barnett this week. "He is a brilliant person."
Foreign Minister Julie Bishop lauded Buswell's "brilliant mind and great ability". "Like so many clever people he obviously has some flaws," she said.
Prime Minister Tony Abbott, who was campaigning in Perth ahead of next month's crucial re-running of the Senate election in WA, said he deserved respect and privacy.
Details of Buswell's alleged erratic driving in the early hours of Sunday, February 23, didn't emerge until last Sunday, when they were first reported by local media.
Barnett had previously responded to growing disquiet about his treasurer's unexplained subsequent absence from work by saying he had taken personal leave for health-related reasons. Buswell reportedly spent 10 days in a hospital in Perth and a clinic in Sydney.
The Premier insists Buswell's chief of staff Rachael Turnseck didn't mention any driving incidents when she discussed the mental breakdown with him and advisers on February 24 and 25.
He says he found out about the driving allegations from reporters last Sunday, the same day Buswell phoned to resign as treasurer and transport minister.
A police investigation has yet to determine if Buswell's car caused the damage to other vehicles, but WA Police Commissioner Karl O'Callaghan has said there is no prospect of drink driving charges because no breath test was taken at the time.
McGowan said any inquiry should also be able to examine the police response.
"There is enough evidence now for an inquiry so that the public can have confidence that criminality is not being covered up," he said.