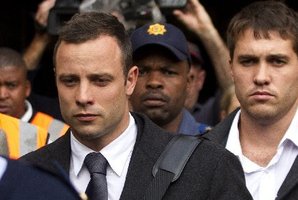 A friend of Oscar Pistorius asked him if he "was f***ing mad" after the athlete fired a shot out of the sunroof of a car following an altercation with traffic police, his murder trial has heard.
Darren Fresco, who was identified by two witnesses as being with the athlete on two occasions when a gun was fired in public, told the court the athlete was "furious" after a police officer "touched his gun" when he was stopped for speeding in 2012.
"Then without prior warning, he shot out of the sunroof," he told Pretoria's High Court. "Apologies for my language, my Lady. But I asked him if he was f***ing mad."
Pistorius allegedly told the police officer he couldn't "touch another man's gun", which was on the back seat of the car.
"Now your fingerprints are all over my gun. So if something happens, you're going to be liable for anything that happens," Mr Pistorius said, according to Mr Fresco.
He said the incident left him "a constant ringing" in his left ear and felt "like it was bleeding".
During cross-examination, defence counsel Barry Roux questioned his version of events arguing Samantha Taylor, Pistorius' former girlfriend, who was also in the car that day, told the court both Mr Fresco and Pistorius said they wanted to "shoot a robot" and laughed.
Mr Fresco said he could not remember saying that.
"That's an interesting answer. Not that you remember. Does that mean you're happy that your version is the truth?
"In which case your answer should be - that did not happen. I did not say I wanted to shoot a robot," Mr Roux said.
Mr Fresco appeared to be irritated by the grilling and ultimately admitted he had been following the proceedings on Twitter.
Earlier, Mr Fresco told the court Pistorius asked him to take the blame after his gun, a Glock 27 .40 calibre pistol, went off under a table at a Johannesburg restaurant in a separate incident in early 2013.
Mr Fresco said he told the sprinter he was "one up"- meaning there was a bullet loaded into the chamber of the gun - before passing him the gun. He said he knew of Pistorius' "big love' for guns and assumed he "had competency with it".
Pistorius allegedly asked him to take the blame for it because there was too much media attention around him. Being a friend, Mr Fresco said he agreed to do it "with pleasure".
"Instantly he passed the weapon back to me, under the table, and he said 'Please, there's too much media hype around me at the moment, please can you take the rap?' " Pistorius said, according to Mr Fresco.
The incident forms the basis of one of three separate firearms charges which Pistorius is facing in his trial, in addition to the main charge of murdering his girlfriend, Reeva Steenkamp.
Pistorius arrived in court for the seventh day of his murder trial dressed in a dark suit and wearing glasses. He sat in the dock next to a green sick bucket.
On Monday, the South African sports star threw up multiple times as court heard graphic evidence from Professor Gert Saayman, the pathologist who performed the post-mortem on Ms Steenkamp.
The autopsy revealed the 29-year old model was shot in the right hip, the right elbow, and the right temple from a 9mm pistol carrying bullets designed to "penetrate and then mushroom" on impact, causing extensive damage on the model's body.
Returning to the witness box for a second day, Prof Saayman said it was likely she would have screamed after being shot through the arm and hip. He added the shot that struck her in the head was "in a different league" and would have been fatal almost instantly.
Last week, neighbours of Pistorius claimed to have heard a woman screaming the night Ms Steenkamp died. The athlete's defence argues Pistorius sounds "like a woman" when he is feeling anxious.
Prof Saayman also told the court that the vegetable matter food found in her stomach was likely to have been ingested within two hours of her death at 3am, which appears to contradict Pistorius' claim that the couple went to bed at around 10pm.
When asked about studies that show meals can sometimes take up to four hours to digest, the Professor said they would be "statistical outliers".
"As scientists we must basis our analysis on what science has most frequently shown", he added.
Prof Saayman admitted that he is not an expert on "gastric emptying" but highlighted he has performed more than 10,000 autopsies over 30 years.
Pistorius pleaded not guilty of murdering Ms Steenkamp, claiming he shot her in a case of mistaken identity thinking she was an intruder.
Prosecutors argue he intentionally shot and killed his girlfriend following a domestic dispute. If convicted of murder he will almost certainly receive a life sentence, with a minimum term of 25 years.
The case continues.