As civil unrest worsened in Ukraine, New Zealander Steve Asplin took to the streets hoping to bring about peaceful change. But life in the capital Kiev has now taken a sinister turn and he is readying himself to protect his young family — whatever it takes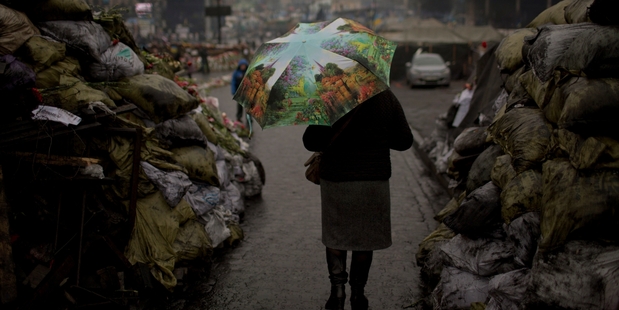 Sundays were the days when people marched through Kiev. People first gathered in Independence Square, massed as far as we could see, the vista interrupted only by Ukrainian flags.
Beside flaming braziers in blockaded streets, people congregated, warming themselves in -20C. Some without gloves held their hands above the dancing flames as others roasted salo [pork fat] on skewers, laughing as a never-ending procession of people streamed past. From the speakers onstage, the message was clear: the President should serve the people's interest, not his own.
In -20C I find it difficult to stay outside for longer than an hour. Even with fur-lined leather gloves and a woollen hat the cold eats into you and bit by bit takes over. I don't know how the protesters could take it, especially after being drenched by water cannons. The riot police reserved the spray for after midnight, when protesters were at their weakest.
We had first visited the protest site in November, just after the Berkut [riot police] severely beat unarmed protesters. We brought food for those camping in the square and the occupied Trade Unions building. It was a hive of activity: lots of people were coming in with groceries, medical supplies and camping gear. There was a festive atmosphere - it felt like a music festival.
We were just trying to help local people, although we also identified with their cause. Some of our friends went to Independence Square every evening after they finished work, returning home after midnight. They felt they had been betrayed and had to go there until something changed.
The protests started because the Viktor Yanukovych government, which had campaigned on European integration, had then declared modernisation too costly and difficult.
When the Government suddenly signed a loan agreement with Russia, the atmosphere in Kiev seemed to change radically. Protesters started going missing, their cars were firebombed, and businesses that supported the protests were targeted and had their electricity, heating and internet disconnected.
Our office started receiving phone calls from mysterious Ukrainian organisations asking our opinions on the protest movement. My wife fielded the calls, refusing to give an opinion.
As a business owned by a foreigner and teaching English to young people, we were suspected of spreading ideas such as transparent governance.
For several days we had to cancel classes because our students reported the "titushki", hired government thugs, were patrolling their suburbs and beating up anyone on the streets.
We saw photos of 20 buses of titushki arriving in a suburb near where some of our students live. Across the road from our office in the park local residents formed protection patrols.
Kiev became more unstable as the Government closed petrol stations, blocked bridges, stopped the Metro trains and prevented traffic flowing to the central city. People swarmed to supermarkets, buying all the long-lasting food products they could find. ATM machines were empty and banks refused to exchange the Ukrainian hryvnia for dollars or euros.
For the first time in my life I felt as if I might need some kind of weapon for protection. Our home phone was no longer able to make international calls, cellphone reception and the internet was cutting in and out, and a young protester was shot just a few hundred metres from our apartment.

How did we find ourselves in the middle of this? One of the questions I get asked in Ukraine is, "why did you leave New Zealand?" To most Ukrainians, New Zealand seems like paradise, a wealthy country that has beautiful landscapes and scenery.
We decided to relocate to Kiev two years ago for family reasons. My wife is from Kiev and her grandparents are elderly - we wanted to support them. As I didn't speak Russian or Ukrainian, I decided I would teach English.
We found moving to Kiev a huge culture shock. It was interesting, exasperating and exhilarating all at the same time. The differences were felt most keenly by my wife, who hadn't lived in Ukraine for more than 10 years. Things she had forgotten, such as the acceptability of public littering and drinking, the crazy driving, and the ever-present corruption, made her question whether moving to Ukraine was such a good idea.
For me, I felt a sense of liberation. Although Ukraine has a huge number of rules, regulations and laws, no one seems to take any notice of them.
So although it is technically illegal to drink beer on the street, most people do it, some even as they're walking to work in the morning. It isn't something I would choose to do, but I liked the fact that I could, without any dirty looks or judgment.
Our son has adapted well to life in Ukraine and attends a state kindergarten as well as New Zealand Correspondence School.
He now understands and speaks Ukrainian, Russian and English.
Last year, my wife and I decided to open a teaching and translation business, mainly so I could walk to work. When we asked about the process to register our business at the plush offices of the central tax administration, the assistant pulled out what looked like a huge telephone book, about 20 years old. Thumbing through, she gave us the address of our regional business development centre. After spending a day looking for the building we eventually found a small note on a fence informing us it had moved.
Then we learned that registration rules had been changed by Ukraine's parliament and every business owner in our area had to change their registration. There were hundreds in the queue, and the queue spanned days rather than hours.
Situations like these have made Ukrainians want more from their public institutions. They realise these antiquated paper-based systems, which involve going from building to building getting documents stamped, paying tiny sums at the bank, collecting receipts and queuing for hours, only increase corruption and hinder economic growth.

When we awoke two weeks ago to discover the Yanukovych administration had ended, it seemed unreal. For a week we watched as a new government was formed and Kiev returned to a state of calm we hadn't seen for the previous three months. People greeted each other with smiles and "Glory to Ukraine".
Our office, in the privatised section of a government building, was filled with conversations about the discoveries of Yanukovych's corruption. Even his most steadfast supporters became circumspect.
When Russia invaded the semi-autonomous republic of Crimea, part of Ukraine's sovereign territory, it was heartbreaking. There had been such jubilation when Yanukovych left and people had felt it had been true democracy in action, where three months of protest had removed a cancer from the country.
That sense of calm has now dissipated in Kiev and there is a steely determination in its place. Young men and women volunteer for the armed forces; diplomatic efforts are increasing to avoid a war that would be all the more brutal because it will be between nations whose shared history and familial ties run deep. Most in Ukraine are opposed to a war but the Ukrainian people will fight to preserve their country, and we will help.