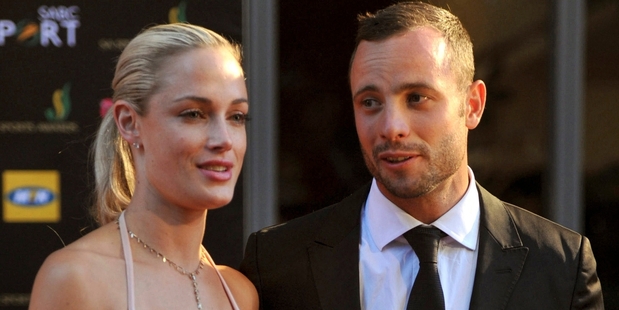 The media circus outside the North Gauteng High Court in Pretoria is fully formed.
Satellite trucks, gazebos under which many of the world's leading broadcast organisations have established temporary studios, and an entire set, on which construction was only finished yesterday, for the 24-hour channel that will start rolling tonight in South Africa, are dedicated exclusively to the trial of Oscar Pistorius.
Pistorius' uncle, Arnold Pistorius, who has become the family's spokesman, said yesterday that the family would not comment on any more stories in the media.
"The focus is now entirely on a very serious trial," he said. "We love Oscar, and believe in him, and will be standing by him throughout the coming trial."
Prosecutor Gerrie Nel has called Pistorius, 27, a man "willing and ready to fire and kill" as the state charged him with the premeditated murder of Reeva Steenkamp.
Pistorius gives a totally different story, saying he was terrified in the mistaken belief that there was a dangerous intruder in his home. "I knew I had to protect Reeva and myself," Pistorius said in an 11-page affidavit, his only testimony so far.
The attention that the case has attracted has drawn the criticism that Pistorius is facing trial by media. He is, in fact, facing trial by Judge Thokozile Masipa. But it is not overly sensationalist to say that it is the South African justice system that will face trial by media.
Masipa, only the second black woman to sit on the Transvaal High Court when she was called in 1998, understands this better than anyone. Under apartheid she worked as a crime reporter and did not pass her bar exams until the age of 43.
She has a strong history of tough sentences for crimes against women. On handing down life sentences to two rapists she argued that the crime was on the rise to such an extent that it was undermining the fabric of society.
Masipa will be assisted by two "assessors", legal experts who can come from varying backgrounds, often solicitors. There will be no jurors. Trial by jury was abolished in South Africa under apartheid in 1969.
No stone in the accused's life left has been left unturned. Britain's Sun newspaper reported that Pistorius had a new girlfriend, Leah Skye, a 19-year-old student paramedic labelled "blade stunner" by the paper.
If Pistorius is convicted of intent to kill he will receive a life sentence with a minimum of 25 years.
- Observer, Independent