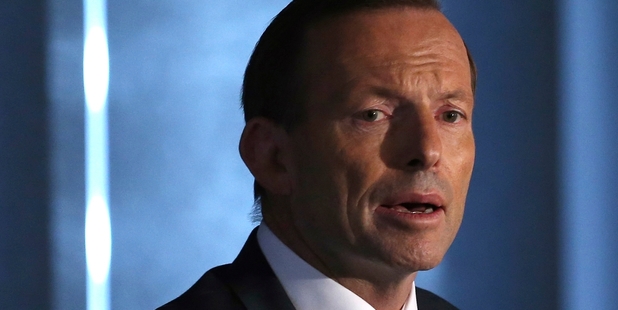 One-time university boxer Tony Abbott has confirmed his pugilistic approach to politics, declaring immigration is no place for wimps as his senior ministers prepare for an equally two-fisted approach to the economy, health, welfare and education.
The Prime Minister has brushed aside attacks on Immigration Minister Scott Morrison for his handling of the death of an asylum seeker during violence at the Manus Island detention centre, emphasising there will be no change in policy.
Treasurer Joe Hockey used the G20 finance ministers' meeting in Sydney to claim a mandate for a swingeing overhaul of the economy, including the prospect of Australians having to work beyond 67, while Health Minister Peter Dutton has his eyes on the Medicare universal health care system.
Abbott has been cheered over the past week by polls finally returning the Government to a 52-48 per cent lead over Labor, although he remains personally unpopular and well behind Hockey and Communications Minister Malcolm Turnbull.
But while Morrison is trumpeting the longest boat-free period since August 2008, the Government's draconian stance on asylum seekers is an increasing thorn in its side.
The hard line, including the controversial turn-back policy, has added significantly to the damage caused to relations with Indonesia by revelations of Australian spying on President Susilo Bambang Yudhoyono, his wife, senior associates and military and economic communications.
The Manus riot and Morrison's response has further increased condemnation by international and domestic human rights agencies. A 23-year-old Iranian asylum seeker, Reza Berati, died of head injuries and more than 70 others were wounded.
Morrison initially claimed the violence occurred after asylum seekers broke out of the centre and away from what he said was the guaranteed protection of Australian law, provided by private contractor G4S.
But at the weekend he said the violence had, in fact, taken place inside the camp and that his initial information had been incorrect. Human rights experts said this put Australia in breach of its international obligations to protect asylum seekers.
Yesterday, it was announced that G4S has lost the contract and a new A$1.2 billion, 20-month deal for Manus Island and the Nauru centre had been signed with Transfield Services.
Abbott rejected criticism of Morrison, saying he was an "outstanding ... strong and decent" minister. "You don't want a wimp running border protection," Abbott said.
Shadow Immigration Minister Richard Marles said Abbott needed to grow up and stop making comments "more suited to a schoolyard than a statesman". He added: "This is not a macho contest."
It has also emerged that Foreign Minister Julie Bishop has asked impoverished Cambodia to consider accepting refugees from the camps.
The Government is also preparing the nation for a punishing May Budget as it considers its controversial commission of audit into federal finances and fleshes out its plans for a dramatic economic makeover.
Hockey has given a clear indication he intends stripping the economy to its barest to push growth beyond 3 per cent to provide the jobs the Government has promised. "Unless we undertake the structural reforms in our economy we will not only fail to meet the [new G20] global target but more importantly ... we'll be letting down people who want jobs and we have to undertake this reform."
Many of the measures will be contested by Labor and the Greens, who hold the balance of power in the Upper House until the new Senate sits in July.
The final shape of the new Senate remains uncertain. The WA Upper House election has been declared void because of lost votes and a new poll that could rebound on the Government will now be held in the next few months.