Mother shows only compassion for the man whose mental illness ended in deadly attack on their son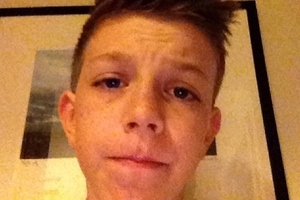 His father had just savagely beaten her young son to death, yet Rosie Batty could find only compassion for the violent and disturbed ex-husband who was then killed by police.
Not for Batty recriminations over the fact there were five outstanding arrest warrants against a man who previously attacked and threatened to kill her.
Greg Anderson should have been behind bars on Wednesday evening. Instead, the 54-year-old attended junior cricket practice at a picturesque sports oval, where he suddenly turned on his son, Luke.
First Anderson set about the defenceless 11-year-old with a cricket bat. Then he pulled a knife. After police arrived on the scene Anderson ran at one officer, urging him to shoot. He did. Anderson died in hospital several hours later.
"Horrific beyond words," was how Prime Minister Tony Abbott responded yesterday to a crime that has left a tight-knit Victorian community devastated and a nation numb with shock.
Australia's test cricketers, on tour in South Africa, donned black armbands.
In the ensuing search for answers, the most eloquent and considered analysis has come from the grieving mother and wife whose life will never be the same again.
"This has been an 11-year battle," said Batty, who travelled to Australia as an English backpacker in the early 1990s and met her future husband.
His behaviour changed when she became pregnant with the couple's only child.
By the time Luke was a toddler they had split, and Anderson's mental health problems gradually got worse.
"Nobody could have helped Greg any more," she said. "I tried, his family tried, everybody tried.
"You're dealing with someone who's always had problems. They start out small and over the years they get bigger, but he's still the father."
In recent times Anderson had assaulted Batty with a wine glass and threatened to kill her. He was also reportedly facing a charge related to accessing child porn from the internet at a suburban library.
On Thursday, just hours after her world turned upside down, Batty stood before television crews, photographers and reporters for almost half an hour, discussing the complex nature of domestic violence.
Australians marvelled at her extraordinary strength and composure.
"I'm here right now because I know you have a job to do, and I want to tell everybody that family violence happens to everybody, no matter how nice your house is, no matter how intelligent you are."
She had been terrorised with it for years, but Anderson's mental illness went untreated because he "chose to believe he was okay", she said.
"His life was failing. Everything was becoming worse in his life and Luke was the only bright light."
The father had recently been living in a car and caravan in the Melbourne suburb of Chelsea Heights.
On Wednesday he took the train to Tyabb on the Mornington Peninsula where his ex-wife and Luke lived. An intervention order meant he could only see his son in public places.
Batty said Luke feared for his mum's safety but felt pain for his father. "He knew his dad was in a bad place," she said.
He also trusted and felt safe with Anderson who, until he landed what police believe was the first and fatal blow to the head, had shown no sign of violence towards his son.
Several inquiries into the deaths are under way. Police are investigating why Anderson slipped through the net after he failed to show in court on charges of assaulting his ex-wife.
Like the distraught mother, authorities expressed hope Luke's death will spark action on domestic violence, a scourge that often remains hidden behind closed doors.
Detectives believe Anderson wanted to die in a "suicide by cop", and Batty said the officer had no choice but to shoot.
"The poor policeman is absolutely devastated," she told a radio interviewer. "And you know what? He's put a man at peace, because Greg was tormented and there was no future in his life for him. But he shouldn't have taken my little boy with him."
Police are in no doubt the murder was planned. Quite why Anderson did it may never be known.