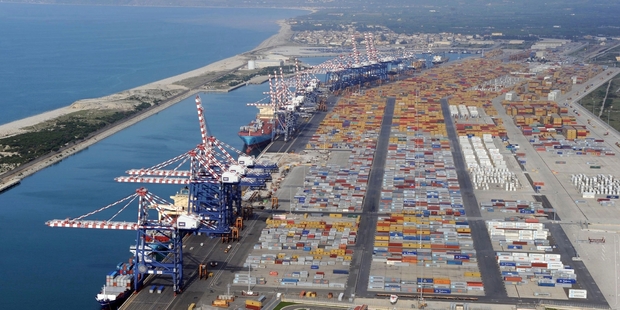 A plot by Italy's 'Ndrangheta mafia and one of America's most notorious crime families to smuggle hundreds of millions of dollars of cocaine into Europe from South America was smashed yesterday by arrests on both sides of the Atlantic.
The criminal groups had been plotting to hide cocaine in liquid form in tins of pineapples and coconuts and then smuggle it via a new route through Gioia Tauro, a massive container port in Calabria, the southern Italian region which is the 'Ndrangheta's stronghold.
The tins of fruit were to have been handled by a Guyana-based firm, with a Mexican drug cartel acting as an intermediary.
The plot, which was in an advanced stage, was thwarted after investigations over two years by undercover agents in both countries.
A key role was played by an American undercover agent, identified only as "Jimmy", who managed to gain the trust of the initially highly suspicious 'Ndrangheta clans.
Police in Italy arrested 18 people while the FBI in New York detained eight suspects in an operation that was codenamed "New Bridge". A further 40 people were placed under investigation.
The drug smuggling plot exposed new links between the 'Ndrangheta and the Gambino family in New York, which has traditionally done business with the Sicilian Mafia, Cosa Nostra, rather than its Calabrian counterpart.
"This operation demonstrates the new alliances that have been forged between the 'Ndrangheta and the old Mafia families of New York, such as the Gambinos," Andrea Grassi, the Italian police chief in charge of the investigation, said.
It also showed the extent of the 'Ndrangheta's global reach and the fact that it had eclipsed Sicily's Cosa Nostra in power and influence, he said.
"What we see here is an attempt by the 'Ndrangheta to gain a foothold in the New York area. We stand ready to prevent the 'Ndrangheta from gaining that foothold," said Marshall Miller, an assistant US attorney, at a press conference in Rome.
The criminal syndicates were also attempting to smuggle heroin, marijuana and automatic weapons. The eight people arrested in New York were all alleged members of the Gambinos - one of the "five families" that have traditionally controlled mafia activities in New York.
The newly established link between the 'Ndrangheta and the American branch of Cosa Nostra represented "a dangerous new mafia alliance", said Angelino Alfano, Italy's Interior Minister. He said the investigation managed to disrupt "the criminal activities of one of the most noted American mafia families and dangerous figures within the 'Ndrangheta".