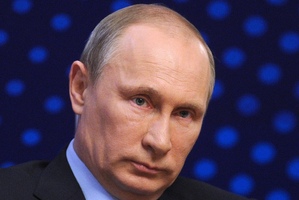 President Vladimir Putin vowed to pursue terrorists to their "total annihilation" in his first public comments since the Volgograd suicide bombings.
In a hastily rewritten New Year's address, broadcast from the Far Eastern city of Khabarovsk, he praised Russia's unity in the face of terrorism and natural disasters and promised to wage an unrelenting fight against the bombers.
"In the past year we have faced problems and serious challenges including the inhuman terror attacks in Volgograd and unprecedented [flood] disasters in the Far East," he declared. "Dear friends, we bow our heads in memory of the victims of these terrible attacks. We will strongly and decisively continue the battle against terrorists until their total annihilation."

He later visited Volgograd and met bombing survivors in hospital.
Putin had earlier provoked widespread condemnation on the internet after a first version of his traditional message, broadcast an hour earlier in Kamchatka, Russia's most easterly timezone, made no mention of the attacks. His spokesman blamed a "technical glitch" that resulted in a pre-recorded speech being broadcast.
The televised address was Putin's first public appearance since the terror attacks, in which two bombers detonated suicide vests at Volgograd's main railway station and on a packed commuter bus. Three of the injured died in hospital on Tuesday, bringing the total death toll to 34, with more than 100 injured. A 3-month-old girl whose life was saved by the blanket in which she had been wrapped while on the bus remained in a serious but stable condition.

Russia's Foreign Ministry and the Kremlin said expressions of support had continued to pour in from governments around the world. Both Britain and the United States had offered to assist with security at next month's Sochi Winter Olympics.
A police sweep in Volgograd has produced no breakthrough on the terrorist cell that planned the attacks.