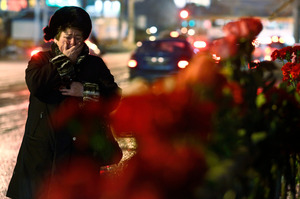 The southern Russian city of Volgograd was in a state of siege as troops patrolled the streets and its people struggled to come to terms with two suicide bombings in 24 hours.
At least 14 people were killed and 28 injured, three critically, when the second blast ripped through a packed trolleybus near a market in Volgograd's Dzerzhinsk district in the morning rush hour local time.
Fatima Samukhvalova was chatting to other vendors beside her flower stall when the bomber struck.
"First we heard a thud, then the explosion, and then a shock wave that knocked my colleague off her feet. We ran down the road and found a bus completely destroyed. It was horrible to look at. There were bits of people, dead people, lots of blood," she said.
She described how market workers had joined conscript soldiers to help as many survivors as possible before the emergency services arrived.
"The soldiers were excellent. They did everything properly and calmly.
"I helped one woman. No one knows why they target Volgograd. We're peaceful people here, and all nationalities live together peacefully. Everyone helped - Russians, Azerbaijainis, Moldovans. We're all afraid."
Survivors included a 3-month-old girl, Vika Tokunova, apparently saved from the blast by the blanket in which her mother and grandmother had wrapped her as they took her for a medical check.
Both women were killed, according to the website Lifenews, and the baby was said to be in a serious condition with a fractured skull and lung trauma.
While the people of Volgograd struggled to comprehend why their city was being targeted by terrorists, Russian authorities scrambled to make sense of a series of attacks that their intelligence services had failed to predict.
The blast came only a day after a suicide bomber killed 17 people and injured more than 40 at the city's main railway station and followed another suicide bus bomb in October that killed at least six.
The Investigative Committee, Russia's equivalent of the FBI, said the bus bombing was the work of a man whose remains were being tested in an attempt to establish his identity.
Meanwhile, reports in the Russian press named the man behind the railway station blast as Pavel Pechenkin, who lived in the republic of Mari El, 645km east of Moscow and converted to Islam last year.
Pechenkin's father, Nikolai, has already given a DNA sample to aid identification, the Komsomolskaya Pravda newspaper reported.
Pechenkin, a former paramedic, was reported to have adopted the Muslim name Ansar Ar-Rusi in 2012 and to have left home soon afterwards.
He told his parents he was going to stay with his younger brother in Moscow, but they later learned he had gone to Dagestan, the North Caucasus republic at the heart of an Islamist insurgency.
Mari El, which previously has not been connected with the insurgency 1610km away, has a population of 700,000, of whom just 6 per cent are Muslim.
Russian media had initially reported that the station bomber was a 26-year-old woman who had twice been married to insurgent fighters, each in turn killed by special forces. But later the Investigative Committee said that the suspect was a male of "Slavic" appearance who carried explosives in a rucksack.
President Vladimir Putin summoned the heads of both the Interior Ministry and the FSB, the domestic security service that succeeded the KGB, to the Kremlin before sending Alexander Bortnikov, the FSB chief, to Volgograd to take control of the investigation.
Putin ordered security to be tightened across Russia and later met Dmitry Medvedev, the Prime Minister, to discuss "all questions connected with providing medical help, financial assistance and other forms of support for the injured and families of those killed in the terror attacks in Volgograd".
Russia's Foreign Ministry likened the two suicide bombings to attacks in the US, Syria and other countries and called for solidarity against what it said was an attempt by terrorists to open "another front". A statement said: "We will not retreat and will continue our consistent fight against an insidious enemy that can only be defeated together."
While no group has claimed responsibility for the attacks, they follow a July call by Doku Umarov, a Chechen insurgent leader, for his followers to do their utmost to disrupt the Winter Olympics - due to begin in the Russian resort of Sochi, 640km from Volgograd, in February.
The extent of Umarov's authority is disputed and experts have suggested that the lack of a claim of responsibility suggests that his organisation has been degraded and the insurgency now operates in small cells hard for Russian security forces to penetrate.
The series of attacks is grimly reminiscent of the build-up to terrorist "spectaculars" in the mid-2000s, including the Beslan School siege, in which more than 300 people died, 180 of them children.
Then suicide bombers had blown up two airliners in mid-air a week before they seized the school on September 1, 2004, in what security experts now describe as an attempt to divert the security services' attention ahead of the main attack.
As authorities closed all Volgograd's shopping centres and other potential terrorist targets and 4000 Interior Ministry troops and hundreds of volunteers flooded the streets, it was difficult to shake the feeling that a state of war had returned.
- Telegraph, AAP