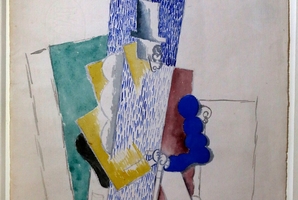 Pablo Picasso's 1914 Cubist drawing L'homme au Gibus, Man with Opera Hat. Photo / AP
A US ticket-holder in a worldwide online charity raffle has walked away with an exquisite Picasso, worth US$1 million ($1.22 million), after paying a mere €100 ($167), Sotheby's said after organising the pioneering event.
The perfectly preserved Cubist artwork had been bought by an anonymous donor from a New York gallery and given to a charity working to save the ancient city of Tyre in southern Lebanon.
The Unesco-registered charity issued 50,000 tickets at 100 each for the raffle at Sotheby's in Paris, hoping to raise US$5 million.
The lucky raffle winner was 25-year-old Jeffrey Gonano from Pennsylvania.