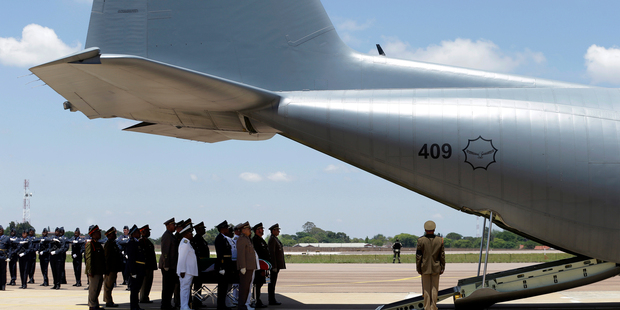 An estimated 100,000 South Africans lined up in Pretoria to view Nelson Mandela in his casket but about a third of the overwhelming crowd was sent away without being able to file past the bier.
Many of the frustrated mourners fought back tears of disappointment on the third and last day of the revered leader's lying in state.
Mandela was to be buried in Qunu, Eastern Cape, today.
Hundreds of people cheered and some burst into song when Mandela's cortege left Pretoria's Union Buildings, the seat of government, for the last time Friday evening, local time.
"It was amazing," said Keneilwe Mohapi, as the impressive motorcade went by. "We couldn't ask for a more fitting end. It's an honour to say goodbye to him properly."
"We're mourning, but I'm grateful," the 27-year-old said. "He changed my life."
Mandela's body was on display since Wednesday, with growing crowds trying to view it each day. About 70,000 mourners were able to file past the casket Friday, government spokeswoman Phumla Williams said.
But Friday's surge overwhelmed planners, who were not able to move people through security checkpoints and on to busses quickly enough.
- AP