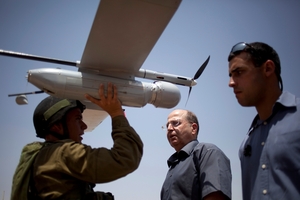 Canadian writer Elizabeth Smart may have sat down by New York's Grand Central Station and wept - she was weathering a stormy love affair - but at least she was spared being almost hit by an object plummeting from the Manhattan skies, a close shave experienced by a businessman last October when an unmanned aerial vehicle (UAV), or drone, crashed near the station.
Naturally, he handed the UAV's video card to a local TV station.
The footage reveals a drone's-eye view of Manhattan's towers and canyons as a rather manic UAV buzzes buildings before falling about 20 to 30 storeys.
New York's finest, perhaps remembering 9/11, were not amused.
"If we find out who this guy is we will certainly charge him," one officer told the New York Post. "We can't have random people flying unmanned aircraft over New York City." Quite.
Police have charged musician David Zablidowsky, 34, with "reckless endangerment".
Civilian drone flights are illegal in the United States. President Barack Obama has ordered the Federal Aviation Authority, charged with keeping US skies safe, to integrate UAVs into the National Airspace System.
It is unlikely anyone will ever get a green light to buzz Manhattan. But the incident underlines the challenge for the FAA as cheap UAVs proliferate - "quadcopters" start at about US$50 ($61).
"The FAA has rules that prohibit the use of drones without a certificate of authorisation, which it issues only to public entities, like law enforcement or fire departments, or to organisations testing drones. " explains Washington State University assistant law professor Ryan Calo.
"Right now you cannot use drones commercially. But you can if you're a hobbyist."
Hobbyist drones must operate in daylight, within line of sight, below 122m, away from other people, outside restricted airspace and far from airports.
The agency has issued about 1400 authorisation certificates, including 80 to law enforcement agencies.
Last month, FAA chief Michael Huerta unveiled a regulatory blueprint to Congress for commercial UAVs, expected to take effect in 2015.
Huerta thought up to 7500 would be cleared for US airspace by 2020.
He cautioned that the certification process - to be conducted at six test ranges - would be tough. As drones can operate in crowded skies over urban areas, the FAA stresses remote pilot control. Autonomous drones are not permitted - for now.
The Association for Unmanned Vehicle Systems, an industry trade group, believes commercial drones will generate 100,000 jobs and US$82 billion in revenue in the next decade.
Calo predicts one of the most challenging legal issues may be when a drone, carrying an app, is involved in an incident that causes physical harm.
Do you sue the owner, the UAV manufacturer, or the company that made the app?
For every benign use of UAVs - such as Amazon's announcement this week that within five years it envisaged using "Octocopters" for half-hour-at-most deliveries of small packages up to 16km from the company's Orwellian-sounding "fulfilment centres" - there are darker possibilities.
Besides terrorism - say, flying a drone loaded with explosives into a target - there are escapades like a recent, foiled bid to fly a contraband-laden drone into a prison in the US state of Georgia, which is a step up and an easier method than using contraband cats, as tried in Brazil and elsewhere.
Nonetheless, a host of legitimate possibilities beckons, from gathering research data to detecting criminal activity and assisting public safety.
Meanwhile, enthusiasts who jump the legal gun find themselves in hot water. The FAA is in a legal dispute with a Swiss band of UAV hobbyists, Team BlackSheep, who post their exploits on YouTube.
After selling UAV footage to an ad agency, BlackSheep's Raphael Pirker was fined US$10,000 for "careless or reckless operation of an aircraft".
"They [the FAA] claim it was reckless because we were flying close to buildings, close to statues," Pirker told the Mashable website in October.
"They said we almost hit somebody, which wasn't true. But we are now going to go to trial."
The widely watched case may test the FAA's authority.
The BlackSheep have also run afoul of authorities in London and Italy after filming the Costa Concordia shipwreck, a flight that mirrors efforts by journalists to record newsworthy events, including using a drone to film the devastated Philippines city of Tacloban after Typhoon Haiyan.
The Associated Press, CNN and News Corporation have all used UAVs, as have paparazzi in their eternal quest to hunt celebrities.
Besides safety, the most pressing issues for UAVs involve privacy and civil liberties.
The Electric Frontier Foundation worries about police "fishing expeditions" - gathering information not covered by a warrant.
"You can track someone 24/7 and get a very detailed picture of their lives in a way you couldn't before," says the EFF's Rebecca Jeschke. '
'We believe you should have a warrant before you do that kind of surveillance."
She says UAV footage may be archived and mined later - maybe using facial-recognition software - a prospect that evokes data-mining by the US National Security Agency revealed recently by American whistleblower Eric Snowden.
Thus, suggests Jeschke, police might comb through footage of people at political rallies.
"How long can they keep footage?" she asks. "Storage is pretty cheap. So it's a real concern having this historical record around."
Police say drones are indispensable in stake-outs, hostage situations, manhunts and other investigations where surveillance can save lives.
A bipartisan Senate bill, the Drone Aircraft Privacy and Protection Act, is seeking to curb invasive surveillance by mandating warrants for police drone use. Nine states have laws that restrict drone use by police or private citizens.
Significantly, says Calo, the FAA has added privacy and civil liberties to safety as core obligations. Applicants for certificates of authorisation must provide a privacy plan.
In the US, "you don't generally have a reasonable expectation of privacy in public or if you're visible from a public vantage," says Calo
Could a paparazzi drone, hovering in public air space, spy on a star's outdoor party?
The law is a little hazy, although police who used thermal imaging to look inside a home and a global-positioning system device to follow a car were deemed to have violated the Fourth Amendment protection against illegal search and seizure.
Would 24/7 UAV surveillance also be unconstitutional? Perhaps. But when a Border Patrol Predator made a brief overflight of suspected cattle rustlers last year in North Dakota, helping the local sheriff make an arrest - the first US criminal case using a drone - it was legal.
Critics say this and other cases where the Feds help local police erodes civil liberties.
Nonetheless, the drones cometh, perhaps equipped with gizmos like the "gigapixel" camera that records targets from 6000m.
Ominously, the Supreme Court has ruled that Fourth Amendment protections may not apply to non-human surveillance.
Expect the legal eagles to soar with the drones.