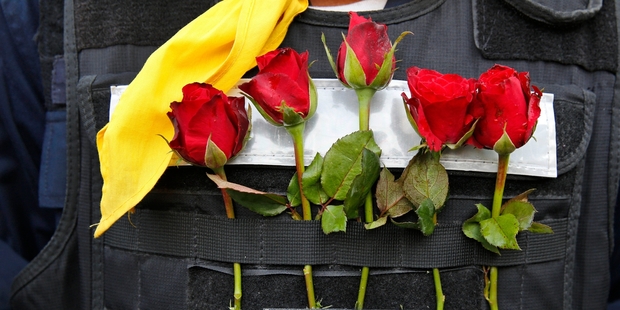 Anti-government demonstrators swarmed into the Thai Prime Minister's office compound as police stood by and watched, allowing them to claim a symbolic victory after three days of bitter clashes.
Hundreds of protesters poured onto the lawn of Government House in Bangkok, waving Thai flags and blowing whistles to celebrate a symbolic victory.
The unexpected reversal of strategy by the Government suggests it no longer wants to confront the protesters and was willing to compromise to ease tensions ahead of revered King Bhumibol Adulyadej's 86th birthday tomorrow.
After bitterly resisting protesters with tear gas and rubber bullets since Saturday, police lounged on sidewalks as protesters removed the barriers on a road leading to the Prime Minister's office and walked through.
Earlier, Police used cranes to remove concrete slabs and barbed wire barricades on a nearby road leading to the police headquarters after agreeing to let the protesters into the building.
It had been widely expected that some kind of an understanding would be reached to allow the protests to pause for the King's birthday.
Government officials did not comment on the developments, and it was not clear if this would provide more than a lull to the violence and the crippling political deadlock that is undermining Thailand's democracy, economy and tourism.
The protesters, mostly middle-class Bangkok supporters of the opposition Democrat Party, accuse Yingluck Shinawatra of being a proxy for her elder brother, former Prime Minister Thaksin.
He was deposed in a 2006 military coup but remains central to Thailand's political crisis, and is a focal point for the protesters' hatred.
At least three people have died and more than 220 people have been injured since last weekend.
Early yesterday, protest leader Suthep Thaugsuban told his supporters to storm the Bangkok Metropolitan Police Bureau, one of the main buildings they have vowed to seize as part of a campaign to topple the Government.
At the same time, Yingluck said although she was willing to do anything to end the violent protests, she could not accept Suthep's demand to hand power to an unelected council.
Yingluck was elected with an overwhelming majority in 2011, and many observers see the protesters' demand as unreasonable if not outlandish.
Protesters on Monday commandeered rubbish trucks and bulldozers, and tried to ram concrete barriers at Government House and other key offices. Police repelled them by firing tear gas, water cannon and rubber bullets, as protesters shot back explosives from homemade rocket launchers.
The violence has largely been around key institutions - Government House, Parliament and the Metropolitan Police Bureau in the historic quarter. The area has some of Bangkok's main tourist attractions such as the Grand Palace, Wat Pho temple, the zoo, and the backpacker area of Khao San Rd. Most of the city of 10 million has been unaffected.
Yingluck and Suthep met briefly on Sunday in the presence of top military leaders, even though he had an arrest warrant against him. A second was issued on Monday on charges of insurrection. His sustained campaign has raised suggestions he may have the backing of the military. The army has carried out 18 successful or attempted coups since the 1930s.
"If I'm arrested, it is no worry. Others will take my place," Suthep said, adding he would continue his protests even if Yingluck dissolved Parliament and stood down.
The former shrimp-farm and palm-oil tycoon resigned in October from his position as an MP and a senior figure within the Democrat Party to lead the protests.
Yet the main problem for Suthep and his supporters is that electoral mathematics is not on their side. Indeed, the Democrat Party has not won a contested election for two decades. By contrast, Thaksin, or his supporters, keep on winning. As a result, while they claim they are acting in the interests of true democracy, Suthep and the eight Democrat Party politicians who resigned with him in October propose abolishing Parliament and replacing it with something most observers say would be less democratic - a public committee of appointed citizens.
- additional reporting AP