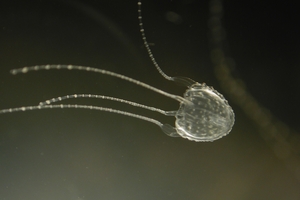 A new, deadly plague could be slowly floating down Australia's vast coastline as ocean warming brings more tropical marine species southwards.
The Irukandji jellyfish, one of the most venomous creatures on the planet and a close relative of the lethal Box jellyfish, has been reported further south than ever before in Western Australia and Queensland.
While most of northern WA is largely empty, the Queensland coast is one of the nation's biggest tourism drawcards and vulnerable to an Irukandji invasion. Scientists are investigating whether the jellyfish could become established in the state's populous southeast.
This year, a rash of Irukandji stings has been reported at the World Heritage Ningaloo Reef, about 1,200km north of Perth. The jellyfish had not previously been reported so far south.
State Parks and Wildlife officials issued warnings to visitors and commercial tourism operators, advising swimmers and divers to wear full-body nylon or Lycra stinger suits.
In Queensland, the jellyfish have for the first time been reported as far south as Hervey Bay, three hours north of Brisbane.
The Irukandji have previously not drifted below Gladstone, more than 500km above Brisbane.
With a head about 5mm to 25mm wide and tentacles up to a metre, the translucent Irukandji can barely been seen in the ocean, and their sting at first passes almost unnoticed. Two hours later the pain begins, building to excruciating levels.
Victims can suffer severe pain in the back, limbs or abdomen, vomiting, sweating, and rising blood pressure that at worst can cause abnormal heartbeats and even heart failure.
There have been few confirmed deaths from its sting, and the Irukandji is not as lethal as the Box jellyfish, which can kill within minutes and claims more victims than other deadly Australian species, such as snakes, sharks and crocodiles. But the Irukandji's impact could be much broader than its victims, hitting the A$22 billion-a-year ($25 billion) Queensland tourism industry.
In the science journal Global Change Biology, Griffith University doctorate student Shannon Klein and environmental lecturer Kylie Pitt said the Irukandji was expected to join the growing list of marine species moving south with rising sea temperatures and strengthening ocean currents.
They said the growing evidence of southward migrations of tropical fish and plankton was particularly apparent on Australia's east coast, where the current was pushing warmer waters down the continent. Their research found that if waters continued to warm but associated ocean acidification rose more slowly than predicted the Irukandji could move further south in the short-term.
But they also said that coral reefs could be the jellyfish's natural habitat, and that with fewer reefs they could find it hard to become established south of the Great Barrier Reef.