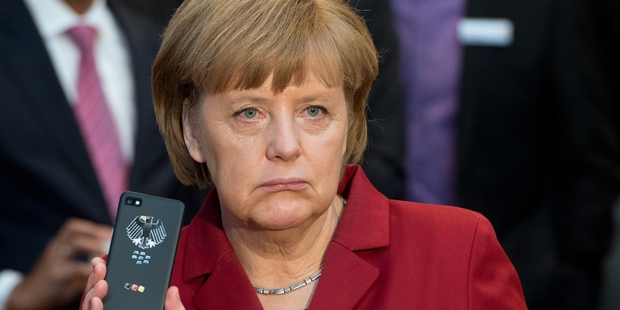 The White House was scrambling to head off a major diplomatic incident after the German Government said it had received information that US spies may have tapped Chancellor Angela Merkel's personal mobile phone for years.
In the most significant protest by a world leader since Edward Snowden began leaking details of the US's global surveillance network, Merkel called President Barack Obama and demanded his personal assurances she was not being monitored.
The President promised his German counterpart that US intelligence "is not monitoring and will not monitor" her communications but the White House did not explicitly rule out the possibility she had been bugged in the past.
German diplomatic sources said they were not satisfied with the White House's explanation and would demand clarification over the "completely unacceptable" allegations.
The row comes two days after France summoned the US Ambassador to Paris to demand an explanation to reports that America swept up 70 million French telephone records in a month including politicians and business leaders.
In the latest flare-up with a European ally, the German Government said it had received information that the National Security Agency had targeted Merkel's personal mobile over a series of years in an effort to gain diplomatic intelligence.
Steffen Seibert, a spokesman for Merkel, said the spying "would be a serious breach of trust".
The call to Obama appeared to have been prompted by information from Der Spiegel, a magazine that has begun publishing information from Snowden's trove of stolen classified US files. Der Spiegel reportedly approached authorities with a US document that contained Merkel's mobile phone number, triggering the sharp German response.
"Today President Obama and Chancellor Merkel spoke by telephone regarding the allegations that the US National Security Agency intercepted the communications of the German Chancellor," said White House press secretary Jay Carney. "I can tell you that the President assured the Chancellor that the US is not monitoring and will not monitor the communications of the Chancellor."
He did not rule out the possibility that the US had in the past monitored her telephone, a nuance that was picked up by German diplomats.
Last month, Dilma Rousseff, the Brazilian President, postponed a state visit to Washington in protest at claims the US was intensely spying on her country. Globo TV reported that the NSA targeted Rousseff's aides, collected billions of Brazilian emails and hacked the internal network of Petrobras, the state-run oil company.Telegraph Group Ltd