The girl shot by Taliban is up for a Nobel prize. Simon Usborne tells how family and PR advisers guide her.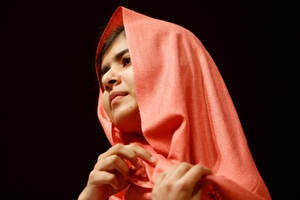 When a Taliban gunman boarded a school bus in Pakistan's Swat Valley last year, he shouted out one question. "Who is Malala?" Some of the girls turned to look at the only pupil among them whose face was not covered. The man had his answer, and shot her in the head. She was 15.
Malala Yousafzai, whose crime was to speak out for the rights of girls to receive education, has spent the past 12 months answering the Taliban in her own way.
In a show of defiance that has inspired a movement, the teenager has emerged as a global figurehead on the slenderest of shoulders.
In the week of the first anniversary of her failed assassination attempt, Malala's face will reach audiences large by even her own standards - a symbol of hope embraced by world leaders and celebrity campaigners, and managed by the biggest public relations firms.
Yesterday, in an interview with the BBC's Panorama, the 16-year-old spoke with characteristic poise about her journey from a rural classroom to the United Nations, the walls of Britain's National Portrait Gallery and the nominations list for this year's Nobel Peace Prize.
Tomorrow, I Am Malala, the girl's memoir written with the foreign correspondent Christina Lamb, will be published simultaneously in 21 countries, including Pakistan - a release on a scale usually reserved for blockbuster novels.
A second interview will air later today in the United States as Diane Sawyer, the anchor for ABC's World News, starts a week of Malala coverage. Next weekend, CNN airs its own special: The Bravest Girl in the World.
By the end of this week, Malala, who refuses to let her work get in the way of her own schooling near her new home in Birmingham, will find out if she has become the youngest winner of the Nobel Peace Prize in its 112-year history.
Though this is the kind of exposure that can presage self-destructive behaviour in teenage idols with rather different routes to fame, those who meet Malala are struck by her composure and commitment.
Artist Jonathan Yeo, who painted the portrait that hangs in the National Portrait Gallery, admits he had concerns. "I guess I was worried that she was probably a pawn in a bigger game and was being unduly influenced by the people around her," he says. Those people include Edelman, the global PR firm that manages Malala alongside its work for clients that include Microsoft and Starbucks. Jamie Lundie, an impeccably connected senior executive for the firm, leads a team of five who work with Malala on a pro bono basis.
Fascinated by what he calls her "totemic" profile, Yeo says he was quickly reassured. "She's so reliant on others and that could go very badly if politicians tried to launder their reputations by association with her. But I think she's getting good advice - not too intrusive, and there is no other agenda that I can see."
Yeo says Ziauddin, Malala's father, is ambitious on her behalf but also protective. That ambition was evident in an interview filmed in 2009, when she was already facing threats from the Taliban. She wanted to be a doctor, but her father, a teacher and activist, saw a different future.
"I see great potential in my daughter that she can do more than a doctor," he said. "She can create a society where a medical student would be easily able to get her doctorate degree." From the age of 9, Malala was amazing communities around her home for a public speaking style that belied her quiet demeanour. But it was her shooting and the subsequent outcry that lifted her on to a global stage.
Former British Prime Minister Gordon Brown was an early champion in his role as UN education envoy. Days after the attack, he launched a petition with the slogan "I am Malala", demanding education for all children by 2015.
Malala was undergoing emergency surgery. She continued her recovery in Birmingham, where she now lives with her parents and two brothers. In July, on her 16th birthday, she made her first public speech at the UN headquarters in New York.
She delivered a 20-minute address that held the chamber rapt.
Despite her composure, some are still concerned at her growing profile. Tilman Brueck, who heads Stockholm peace research institute Sipri, asked if it would be "suitable, from an ethical point of view, to give the Nobel Peace Prize to a child".
Mariane Pearl, managing editor of Chime for Change, a global movement for women's rights and the widow of Daniel Pearl, the US journalist beheaded by al-Qaeda in Pakistan in 2002, said in May that Malala didn't need the heroine status.
"Even she has started saying, 'Okay, there's a bunch of me out there. So are we going to manufacture a new Ghandi or Mandela, or do we need a number of great individuals with a strong sense of justice that, together, they are unstoppable?"'
But Malala's determination to empower those individuals appears to be unshakeable. Shiza Shahid, 24, grew up in Pakistan and as a teenager had heard about Malala. She now runs the Malala Fund after Brown asked her boss at McKinsey, the consultancy firm, to give her time off.
"We're trying to balance giving her a normal, healthy life with allowing her to achieve her dreams and having an impact on the ground," Shahid says. "She realised at an early age her voice was a powerful weapon and despite the risks she became stronger and louder ... I felt her emotions and convictions had only strengthened [after the shooting]."
Record number of candidates put up for honour
If Malala Yousafzai is to be awarded the Nobel Peace Prize this week, she will have triumphed over the largest field in the award's history.
This year there are 259 candidates before the Nobel committee, beating the previous record of 241 from 2011. The rules state only a select group can propose nominees: members of national assemblies or state governments, members of international courts, certain academics and directors of peace research and foreign policy institutes, former winners, and active and former members of the committee itself.
The front-runners are Malala, whom many consider the favourite; Denis Mukwege, a Congolese gynaecologist who has carried out world-renowned work with gang rape victims; and Chelsea Manning, the former soldier who was this year sentenced to 35 years in jail for leaking classified US files to WikiLeaks.
- Independent