Observers question whether the African nation is putting all its eggs in one Chinese economic basket.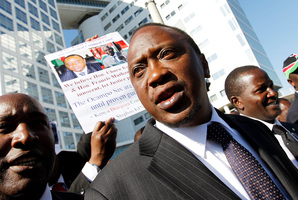 More than a century ago, British engineers and their African and Indian labourers spent five years carving a railway through what would become Kenya in an attempt to open up East Africa's interior.
Along the way, close to 2500 workers died, struck down by malaria, attacked by lions or overcome by exhaustion.
Winston Churchill, who later shot zebras from the train, called it "one of the finest expositions of the British art of muddling through".
By the time the 1060km track reached the shores of Lake Victoria from Mombasa in 1901, the massively over-budget endeavour had been nicknamed "the Lunatic Express".
Now, it is to be built all over again - but this time by China. A new standard gauge track will be constructed from Kenya's coast on the Indian Ocean to its western border with Uganda.
President Uhuru Kenyatta has struck a £3.2 billion ($6.3 billion) deal with Xi Jinping, his Chinese counterpart.
This Chinese funding includes an array of projects, including new hydro-electric dams and the expansion of Kenya's ports, but the railway is expected to swallow most of the money.
Its British-built predecessor was rendered almost derelict by decades of state-sponsored looting of Kenya Railways, forcing almost all freight on to clogged and potholed roads.
Of the 2735km of track that were operational under British rule in the 1950s, no more than 1125km are used today.
The trains rarely go faster than 32km/h even on the best maintained sections.
Kenyatta describes the planned new railway as "important in the context of East Africa's shared goal of ensuring quicker movement of peoples, goods and services".
China's new engagement with Africa was "very similar to the British engagement in the past: railways, roads, bridges, major infrastructure", said Aly-Khan Satchu, a Kenyan economist. Today, big construction projects have fallen out of favour with Western donors.
Meanwhile, Kenyatta is due to stand trial before the International Criminal Court in November for alleged crimes against humanity.
All this has strained Kenya's relations with traditional allies - Britain has nothing but "essential" contact with Kenyatta - and China has quickly stepped into the breach.
Chinese car manufacturers and television stations all operate in Kenya. An English edition of China Daily is printed in the capital, Nairobi.
Few doubt that new railways would help Kenya sustain its economic growth, already running at a healthy annual rate of 5 per cent.
A new rail link could knock 79 per cent off the cost of shifting freight across East Africa, according to the Government.
But critics point out that trade between China and Kenya is almost entirely one-way. Kenya's exports to China totalled only £32 million last year, compared with imports of £1.2 billion.
Some worry that Kenyatta's tilt away from the West could alienate traditional allies and place all of Kenya's eggs in the Chinese basket.
"Kenyatta feels he needs to rebalance towards China in particular," said Satchu.
"It's clear why - China is Mr Moneybags, and we need loads of money to leapfrog our infrastructure to modern standards."
For Charles Nderitu, a Nairobi businessman exporting sugar to the Gulf, all such discussion is academic.
"I'm looking at the bottom line, and if I can move my produce along some new fast cheap railway, instead of by lorries that cost so much and are always breaking down, I don't care who builds that railway," he said.
"It worked for the colonialists when they opened it before. Now it's time to rebuild it so that it works for us Kenyans."
'The Lunatic Express'
* The original railway in Kenya.
* Completed in 1901 after five years work.
* Mombasa to Lake Victoria.
* 1060km of track.
* 2500 workers died.