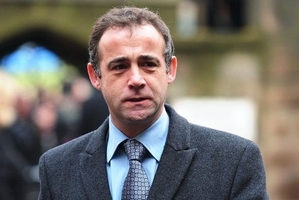 Coronation Street actor Michael Le Vell said he was fighting for his life as he gave evidence in his defence against child sexual abuse allegations yesterday.
Le Vell, who plays mechanic Kevin Webster in the long-running soap, rejected prosecution suggestions that he was using his acting skills to convince the jury of his innocence.
Le Vell, 48, said he felt "shaky" and nervous under cross-examination from prosecutor Eleanor Laws, QC.
The actor admitted he had problems over alcohol, drinking up to eight pints a night at his local pub. But he described his alleged victim as "deluded" and the claims against him as "a pack of lies" when being questioned by police.
Le Vell denies 12 charges including five counts of rape and three of indecent assault. It is alleged he began abusing his victim when she was 6 and that the attacks continued for nearly a decade.
The jury heard how the actor told police he feared he would lose his role in Coronation Street after being arrested. "This is a life-changing thing."
- Independent