Guardian says it was threatened with court action over Snowden documents if it held on to them.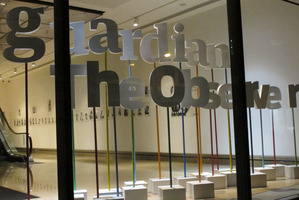 The British Government has forced the Guardian to destroy files or face a court battle over its publication of US security secrets leaked by Edward Snowden, the paper's editor claims.
Alan Rusbridger said he was contacted by "a very senior government official claiming to represent the views of the Prime Minister" which led to two meetings in which "he demanded the return or destruction of all the material we were working on".
The paper was in the middle of publishing candid revelations about mass surveillance programmes conducted by the US National Security Agency and its British counterpart, the Government Communications Headquarters, after former US intelligence operative Snowden handed them thousands of documents.
Writing in the Guardian, Rusbridger claimed authorities told him: "You've had your fun. Now we want the stuff back.
"There followed further meetings with shadowy Whitehall figures," he continued.
"The demand was the same: 'Hand the Snowden material back or destroy it ... you've had your debate. There's no need to write any more'."
The editor said the Government threatened to use the courts to try to obtain the leaked documents if the paper did not destroy them themselves.
"And so one of the more bizarre moments in the Guardian's long history occurred," he added.
"With two GCHQ security experts overseeing the destruction of hard drives in the Guardian's basement just to make sure there was nothing in the mangled bits of metal which could possibly be of any interest to passing Chinese agents."
His article came as British authorities faced a furore after they held the partner of a Guardian journalist who worked with Snowden to expose the surveillance programmes under anti-terror laws.
Rusbridger slammed the detention, and warned "it may not be long before it will be impossible for journalists to have confidential sources".
British authorities are facing increasing pressure to explain why they used anti-terror laws.
David Miranda - the Brazilian partner of Glenn Greenwald, an American journalist with the Guardian - was held for almost nine hours as he passed through Heathrow Airport on his way to Rio de Janeiro from Berlin.
A furious Greenwald said British authorities had "zero suspicion" that Miranda was involved in terrorism and instead spent hours questioning him about the Guardian's reporting on the activities of the NSA, which has enraged Washington.
"This was obviously designed to send a message of intimidation to those of us working journalistically on reporting on the NSA and GCHQ," Greenwald wrote in the Guardian.
"They completely abused their own terrorism law for reasons having nothing whatsoever to do with terrorism."
Miranda, 28, often assists Greenwald with his work, the Guardian said.
He is not an employee of the newspaper, but it paid for his flights. He stayed in Berlin with Laura Poitras, a US filmmaker who has been working with the Guardian.
Greenwald told the New York Times that Miranda was given different files containing information from Snowden to pass back to Greenwald.
These documents, which were stored on an encrypted portable computer drive, were among the items seized by British security at Heathrow, Greenwald said.
Miranda said he had been questioned by six agents at Heathrow who confiscated his electronic equipment.
"The minute I stepped out of the plane they took me away to a small room with four chairs and a machine for taking fingerprints," he told the Guardian.
"They asked questions about my entire life, about everything. They took my computer, video game, mobile phone, my memory card."
A spokesman for Prime Minister David Cameron said the British Government takes "all necessary steps to protect the public from individuals who pose a threat to national security.
"But it is for the police to decide when it is necessary and proportionate to use these powers," the spokesman said.
London's Metropolitan Police insisted their actions were "reviewed throughout to ensure the examination was both necessary and proportionate" and that its use of anti-terror powers was "legally and procedurally sound".
The force also dismissed reports that Miranda was denied legal representation and said that a solicitor was present.
Although the Home Office claimed the operation was Met-led , security sources told the Independent that officers from MI6 may have been among those involved in the lengthy questioning of Miranda.
Labour called for an urgent investigation to ensure powers were not being misused.
Keith Vaz, chairman of the Home Affairs select committee, and the shadow Home Secretary, Yvette Cooper, demanded that Scotland Yard explain why the UK's anti-terror powers had been used to justify the airport detention.
David Davis, the former shadow Home Secretary, said ministers were using the excuse of national security to avoid questions on Miranda's detention. He urged Downing St to reveal what it knew, claiming that the operational background must have gone beyond the control of the police.
The United States denied it asked Britain to detain Miranda.
"There was a heads-up that was provided by the British Government, so this is something we had an indication was likely to occur," White House deputy spokesman Josh Earnest told reporters.
"But it's not something that we requested, and it's something that was done specifically by the British law enforcement officials."
But authorities were under increasing pressure to explain why Miranda was held, with Brazil expressing "grave concern" that one of its citizens had apparently been held incommunicado.
Brazil's Foreign Ministry said its embassy in London had contacted British officials before Miranda's release and that Brazil would also be seeking an explanation.
"This measure is without justification since it involves an individual against whom there are no charges that can justify the use of that legislation," the ministry said.
Arriving to meet Miranda at Rio's airport, Greenwald said he was now even more determined to continue reporting on the intelligence leaks - with a new focus on Britain.
"Now I will be more radical in my reporting," he warned. "This was a clear attempt at intimidation."
David Anderson, QC, the independent reviewer of terrorism legislation, has asked for an official briefing on the arrest, which he described as an unusual case.
Around two million people pass through UK ports every year, about 70,000 of whom are examined under the same anti-terror law.
"Only 40 of those are actually kept for longer than six hours," he said. "So you can see what an unusual case this was, if it's correct that Mr Miranda was held right up to the nine-hour limit."
The National Union of Journalists and the Society of Editors warned that anti-terror laws must not be used to intimidate reporters.
- Independent, AFP