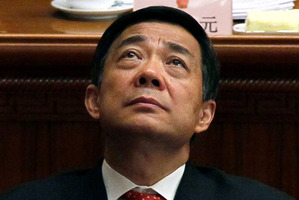 One of China's leading forensic scientists has quit, castigating the judicial system, as it was announced the trial of Bo Xilai will take place on Thursday.
Wang Xuemei, a forensic expert at the Supreme People's Procuratorate, China's most senior prosecutor's office, is the only senior official to have cast doubt over the case against the Bo family.
Bo will face charges of bribery, corruption and abuse of power, said Xinhua, the official news agency.
Last November, Wang became the first and only senior Chinese official to publicly question whether Bo's wife, Gu Kailai, had murdered Neil Heywood, a British businessman.
Heywood's death was the catalyst that brought down Bo, a scion of one of China's most powerful political families.
Wang said the official accounts of the murder had been "absurd" and said investigators had not presented enough evidence to prove that Heywood had died of cyanide poisoning.
"I just want to leave myself no regrets. I am not interested in government issues or politics," Wang said at the time to the Wall Street Journal. "The only thing I know is I'm a professional forensic expert."
Yesterday, she did not mention Bo, but resigned both her job and her vice-chairmanship of China's Forensic Medicine Association.
"I cannot stand my name being mixed up with an academic body that presents such ridiculous and irresponsible forensic evidence," she said.
"I am also resolved to quit the forensic system in China. As a forensic doctor in the supreme forensic monitoring apparatus, I am extremely disappointed and have become desperate over what is happening."
Meanwhile, the Wall Street Journal reported that Gu may testify against Bo in court.