Victims at end of deadly week include son of leader Mohamed Badie.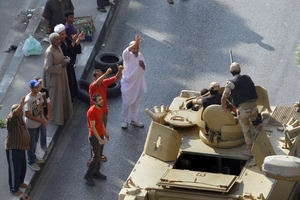 Egypt's descent into violent chaos entered a new phase yesterday as the military-backed Government suggested it planned to ban the Muslim Brotherhood, and armed troops moved to clear a mosque in central Cairo of Brotherhood supporters protesting against the removal last month of President Mohammed Morsi.
New deaths fuelled a grimly confrontational mood at the end of a terrible week which saw about 800 people killed and fading hopes for the future of the 2011 revolution that came to symbolise the Arab Spring.
The Government announced that 173 had died across Egypt on Saturday alone. The latest victims included the son of the Brotherhood's leader, Mohamed Badie.
After two days of tense confrontation at the al-Fath mosque, the state media reported that security forces had cleared the last of the Islamic protesters, arresting a large number.
Raucous pro-government crowds choking the surrounding streets chanted support for the armed forces' commander, General Abdelfattah al-Sisi, and urged the army to deal with the "terrorists" inside. But a man who said he supported the Brotherhood whispered: "The army is killing us."
Badie's son Amar was one of about 95 people killed near the mosque, part of a "day of rage" called to protest against the carnage at the Rabaa al-Adawiya sit-in in eastern Cairo two days earlier.
In political developments, the Government said the Prime Minister in the interim Government, Hazem el-Beblawi, was studying the legal dissolution of the Brotherhood, a move that would force it back underground.
- Observer