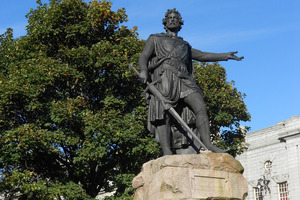 Scotland's independence referendum has not just ignited furious debate over the country's future; it has also started a renewed fascination among film-makers with the country's colourful past, with two new dramas about Sir William Wallace and the Scottish wars of independence being planned to coincide with 2014's poll.
About 18 years since a kilted Mel Gibson, wearing a tub of facepaint, swept the Oscars with Braveheart, the latest projects are two ambitious TV series, with at least one signalling an intent to be rooted more in fact than myth.
Sir Ridley Scott, the director of Alien and Gladiator, and David W. Zucker, producer of US TV show The Good Wife, are to make a mini-series based on books by one of Scotland's most loved authors, the late Nigel Tranter, including The Wallace and The Bruce Trilogy.
The drama will focus on Wallace and Robert the Bruce after Edward I invaded Scotland and imposed English rule. Another drama, said to be along the lines of HBO's Game of Thrones, was announced recently.
"With all eyes on Scotland in the current political climate, this seems an appropriate time to tell [Wallace's] story in depth," said Alan Clements, executive producer of Wallace. "This was a turbulent time in Scottish history in which Wallace had a pivotal and starring role. We plan to delve deep into his character and explore his passions." He added that would be a "raw" depiction.
The 1995 film Braveheart was criticised for numerous historical inaccuracies, based as it was on a poem written 150 years after Wallace was forced to watch his own entrails being pulled out while being hanged, drawn and quartered in the middle of London's Smithfield market.
Attributed to a minstrel called Blind Harry, the medieval epic The Wallace was the second bestselling book in Scotland after the Bible for several hundred years after its publication. But according to historian Dr John Reuben Davies, it is hard to disentangle the myth from the truth.
"There's so much about the Blind Harry account that could be true, but we don't know. There's several bits that simply aren't true. Wallace was an accidental hero, he had been a number two, supporting other military figures, but first one then another were killed, so he became Scotland's guardian rather by accident. I suppose people do like to make a human connection with the past; at the end of the day they were fighting for freedom, but freedom for the landholders."
Indeed Davies points to one document that suggests that the English may have misunderstood Wallace. In the accounts of Edward I for the financial year 1305-1306, he found a reference to Wallace's execution expenses, with Wallace described as "a robber, a public traitor, an outlaw, an enemy and rebel who throughout Scotland had falsely sought to call himself King of Scotland". But as Davies points out, Wallace never sought to be king and was clear that he had no claim to the throne.
Even that Mel Gibson cry of "freedom" is doubtful. What Wallace did say to his troops on the eve of battle was: "I've brought you to the ring, now dance the best you can."
"He was, after all, brought down to London especially so that his execution could be the opening spectacle for the fair of St Bartholomew," said Davies. "They took him all that way, escorted by the king's men."
It remains to be seen whether the new dramas will inspire patriotic fervour in a country currently rooted in the "no" vote - a poll from May showed only 31 per cent in favour of independence.
Sir William Wallace
Who: The younger son of a Scottish knight and landowner who fought for Scottish independence.
Born: 1270, Elderslie.
Died: 1305, London.
Known for: Inflicting a famous defeat in 1297 on the English army at Stirling Bridge.
The wars: In 1296, Edward I took advantage of a succession crisis in Scotland and imposed himself as ruler with an English admin-istration. A year later Wallace attacked Lanark, killing the English sheriff. Unrest became a rebellion. Wallace was knighted and appointed "guardian of the kingdom". In July 1298, the Scots were defeated at Falkirk. Wallace was succeeded as guardian by Robert the Bruce and John Comyn. He went to France to seek backing for the Scottish cause and returned in 1303.
His death: Wallace was seized, charged and tried with treason. He was hanged, drawn and quartered. His head was placed on London Bridge, and his limbs displayed in Newcastle, Berwick, Stirling and Perth.
- Observer,BBC, Wikipedia