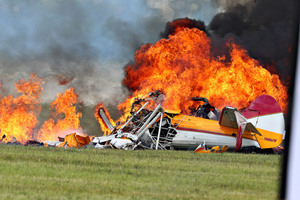 A female wing walker and her stunt pilot were killed when their plane crashed into the ground and exploded into flames.
Jane Wicker was sitting on the wing of the bi-plane when it turned upside down and spiralled out of control in front of spectators at the Vectren Air Show in the US state of Ohio.
Video footage showed the 450 HP Stearman aircraft passing in front of the crowd before lurching violently and falling the short distance to the ground and bursting into flames.
Authorities said the pilot, who has not been named, was also killed. The cause of the crash was not yet known. No spectators were injured.
Ian Hoyt, 20, an aviation photographer and licensed pilot, said: "They were too low and too slow." He said it appeared that the plane stalled and didn't have enough air speed.
Shawn Warwick, a spectator, told the Dayton Daily News that he watched the crash through binoculars. "I noticed it was upside-down really close to the ground.
She was sitting on the bottom of the plane. I saw it just go right into the ground and explode."
On her website, Wicker described herself as a trained pilot who started wing walking in 1990 after seeing a newspaper advert for a flying circus in Virginia. She said she was a full-time budget analyst at the Federal Aviation Authority and worked as an aerial acrobat in her spare time. In an interview last week she told WDTN-TV that her signature move was hanging underneath the plane's wing by her feet and sitting on the bottom of the aeroplane while it flew upside-down. "I'm never nervous or scared because I know if I do everything as I usually do, everything's going to be just fine."
Wicker wrote on her website she had never had any close calls while performing. "What you see us do out there is after an enormous amount of practice and fine tuning, not to mention the aeroplane goes through microscopic care. It is a managed risk and that is what keeps us alive."
Wicker's website biography described Rock Skowbo, a pilot in her company, as her "right hand and other half".
- AP