Allegation comes amid speculation US will move to expand aid to 'trusted' groups.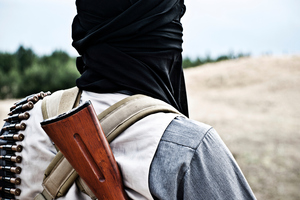 Syrian rebels were accused yesterday of carrying out a sectarian massacre after an onslaught in which 60 Shia Muslim villagers were killed.
Thousands of rebels were reported to have descended on Hatla, a Shia settlement in the east of the country, in revenge for the recapture of the strategic town of Qusayr by forces loyal to the Assad regime after a government offensive last week.
The Syrian Observatory for Human Rights said that at least 60 people, mostly pro-government Shia fighters, but also including ordinary villagers, were killed by the powerful Islamist faction, the al-Nusra Front.
A government official said the rebels were responsible for a "massacre against villagers in which older people and children were killed".
The alleged massacre came as speculation mounts in Washington that President Barack Obama is poised to expand US assistance to some "trusted" Syrian rebel groups.
Syrian rebel lobbyists in Washington have said they are hoping for an expansion of US assistance from the current levels, which includes food and medicine, to non-lethal military equipment such as body armour and night-vision goggles. No timeline has been set, but the move is anticipated before August.
Although officially unconfirmed, there are reports that key meetings are taking place in Washington this week between Obama and John Kerry, the US Secretary of State, and other US agencies to decide whether to step up support for the rebels as Assad forces continue to make gains.
William Hague, Britain's Foreign Secretary, was in Washington yesterday for meetings with Kerry and the Congressional foreign affairs committee ahead of the British-chaired G8 meeting in Ireland next week, where Syria is expected to be the major talking point on the sidelines.
The White House denied specific meetings were taking place, saying only that they were "constantly evaluating" the situation in Syria and that Obama had called for a "rigorous process" to assess whether to change US policy on the conflict.