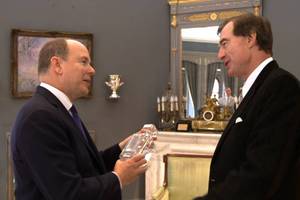 New Zealand Entrepreneur of the Year Craig Heatley had a private audience with Prince Albert of Monaco yesterday.
Heatley presented the prince with a letter of thanks from New Zealand Prime Minister John Key and a bottle of Whyte and Mackay whisky - a duplicate of ones found at Shackleton's hut in Antarctica.
The gifts were to thank the prince for his financial support of research New Zealand is leading in the Antarctic. The research focuses on the causes of global warming and ways to combat it.
"There's a great deal of discussion around the causes of global warming, whether it's occurring naturally or whether man is exacerbating the problems," Mr Heatley said. "However what is beyond doubt is that planet's getting hotter and the CO2s are rising and that's why the New Zealand Antarctic Research Institute exists and why their work is so crucially important to the planet's future."